REFLECTIONS Yacht Charter
Yacht Description
REFLECTIONS yacht is a 124.00 ft long motor yacht monohull and spends the summer season in Bahamas, USA - New England, USA - Great Lakes and winter season in Bahamas, Belize. It was built by Christensen in 1999. A refit was done in 2021. The yacht layout features 5 cabins and accommodates 10 guests. The cabin arrangement is following: 1 king cabin, 3 queen cabins, 1 twin cabin.
The motor yacht features 2x DDC/ MTU 16V -2000 engines .
Accommodation
REFLECTIONS accommodates 10 guests in 5 spacious staterooms. The on-deck master stateroom as a king bed, full width His and Hers bath with marble shower and Jacuzzi tub. Below deck there four guest staterooms to include two VIP Queen staterooms aft to port and starboard. Forward, is an additional Queen stateroom and to starboard is the twin stateroom to port. All guest staterooms have an en-suite bath.
REFLECTIONS Yacht Details
87,500 - 87,500
Weekly price low-high season
80 US Gall/Hr
Consumption
REFLECTIONS yacht charter price

| # of charter days | Base Price | APA (deposit for provisioning, fuel, docking fees, etc) | Total | | Note |
| --- | --- | --- | --- | --- | --- |
| 14 day charter | 175,000 to 175,000 | 35,000 to 52,500 | 210,000 to 227,500 | | Discounts outside the main season are common. |
| 7 day charter | 87,500 to 87,500 | 17,500 to 26,250 | 105,000 to 113,750 | | Standard charter rate, base for all calculations. |
| 3 day charter | 43,750 to 43,750 | 8,750 to 13,125 | 52,500 to 56,875 | | The usual formula is the 7 day charter rate divided by 6, times the number of days (3). Boat policy might differ. 87,500 / 6 * 3 days = 43,750 |
| 1 day charter | 14,583 to 17,500 | 2,917 to 4,375 | 17,500 to 21,875 | | Please inquire, the possibility/availability of a 1 day charter needs to be verified. |

All prices are generated by a calculator and serve as a guide for new charterers. Any additional information of the Price Details section has priority over above. Availability is always subject to confirmation. Gratuity not included for it's discretionary character, usually 5%-25% of the Base Price.
Price Details
Christmas/ New Years - 10 night minimum OR for one week over either holiday please add 15%
** EFFECTIVE JULY 1, 2022 - 10% VAT will need to be quoted for all Bahamas charters in addition to the 4% Charter Tax **
Christmas/ New Years - 10 night minimum OR for one week over either holiday please add 15%
** EFFECTIVE JULY 1, 2022 - 10% VAT will need to be quoted for all Bahamas charters in addition to the 4% Charter Tax **
Price Terms
Plus Expenses
REFLECTIONS Yacht Charter Locations
Summer Season
Winter Season
Features
BBQ: Yes
AC: Full
Internet: Onboard WIFI
Cruising Speed: 14 knots
Max Speed: 20 knots
Diving Yacht offers Rendezvous Diving only
Communication:
WiFi with Cellular and Satellite data provided by KYMETA. (Data Usage billed on APA)
VOIP services available via KYMETA at nominal charge
Iridian Sat Phone
Air Compressor:
Not Onboard
Scuba On Board:
Yacht offers Rendezvous Diving only
Water Sports
Dinghy Size:
33' Everglades 2019
Other Entertainment
-Denon Surround System with AppleTV, Bluray, Airplay & Spotify w/ Distributed Audio throughout Vessel
-Individual A/V Systems in each Stateroom w/ DirecTV, Bluray and CD/BT Audio

Crew
Captain
Chief Stewardess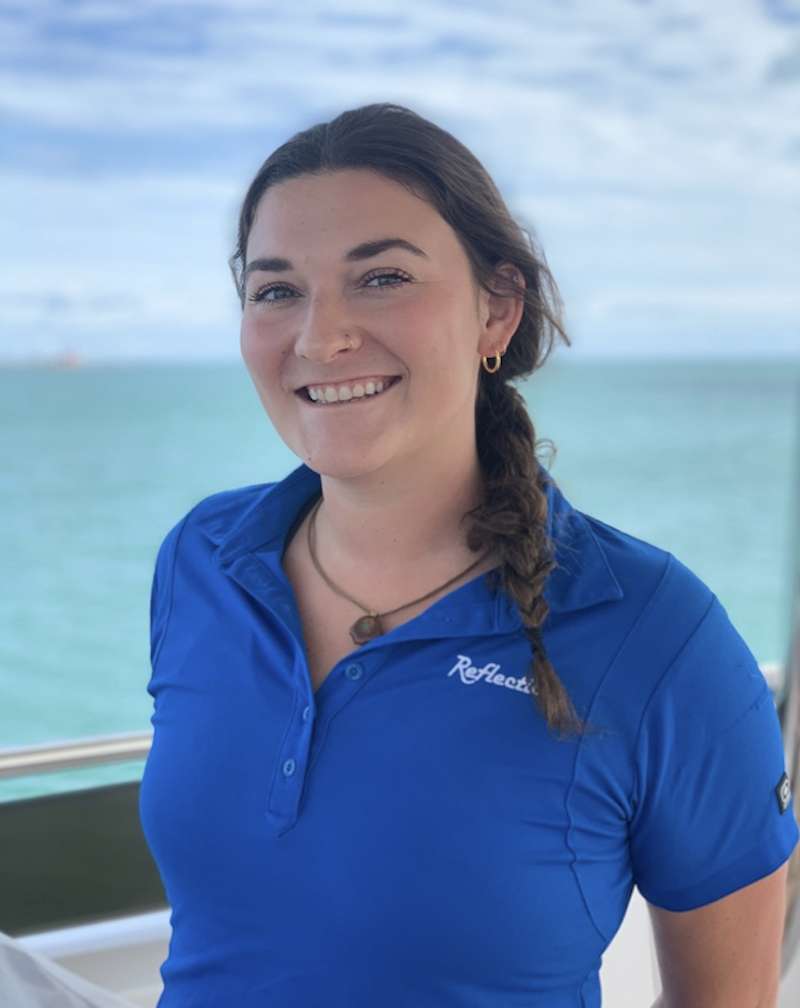 Stewardess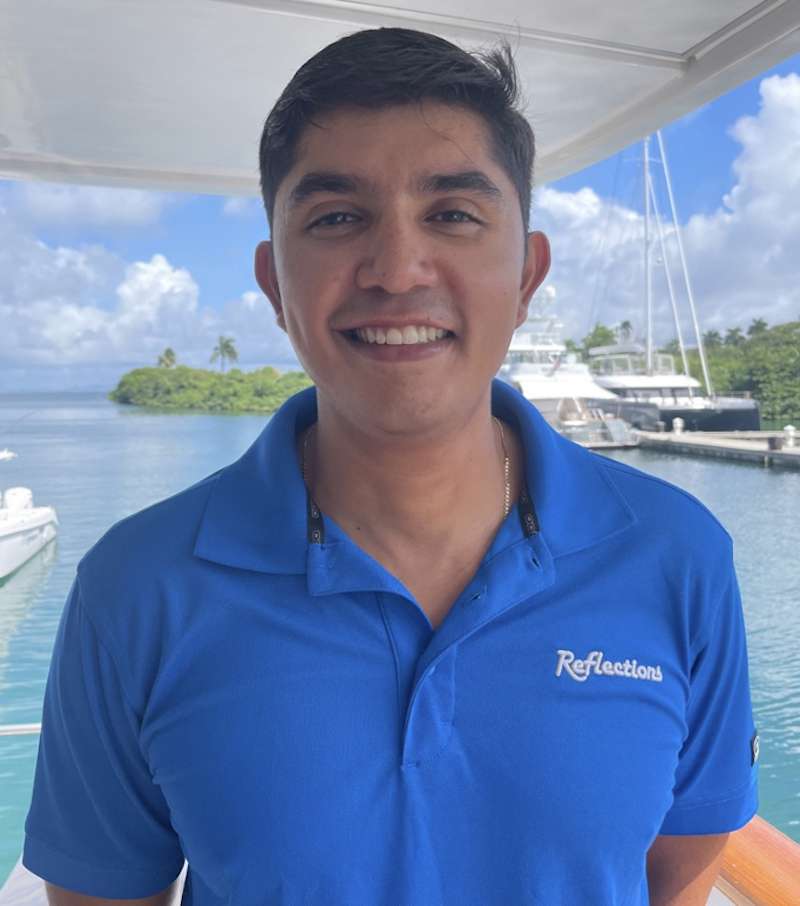 Mate/Engineer
Deckhand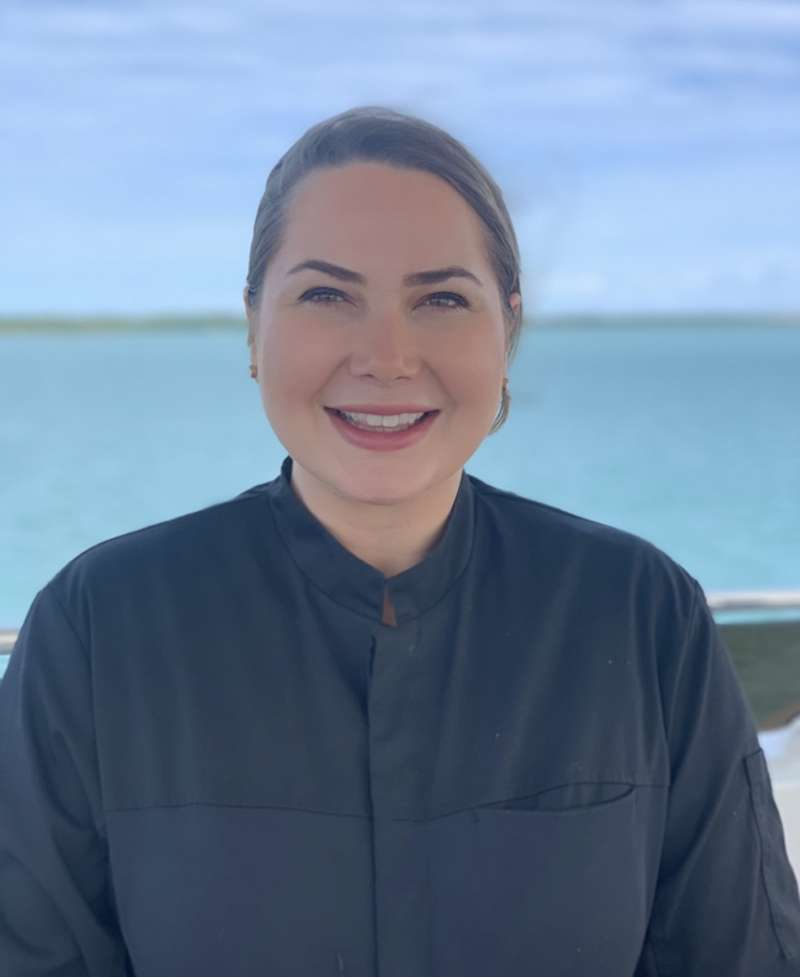 Chef
CAPTAIN DARREN SHEPHERD
Darren grew up on the south coast of England in a small seaside town where he spent his youth sailing. At the age of 18 he became a sailing instructor and went on to work for 6 years at vacation resorts teaching various watersports working his way up manager of the training school. Finding a natural progression into yachting Darren has spent the last 7 years cruising all over the Mediterranean and Caribbean onboard yachts ranging from 70ft-165ft. As a certified Dive Master Darren loves exploring the oceans both above and below the water line. Having completed many charters and extensive long passages through his career, including remote places, working with and catering to different nationalities and client preferences Darren is able to adapt quickly to any client's needs to ensure the ultimate experience is delivered by his crew, whether it be action packed watersports you are looking for or a relaxing week of cruising and fine dining. Darren will see it done!

CHIEF STEWARDESS ALIX SLIWINSKI
Alix is from Cornwall in the southwest of England, where she worked in high-end restaurants & hotels in exquisite beachfront locations. Since 2013 she has worked on both private & charter yachts cruising throughout the Mediterranean, Caribbean & Bahamas. During this time Alix has catered to numerous UHNWI and celebrity charter clients on 100- 230ft yachts. In 2018 Alix joined M/Y Trending a 164ft Westport as chief stew, onboard she captivated guests with her elaborate theme nights, displaying true empathy for guest experience. On Trending she met Darren Shepherd and since then they have been working side-by-side for the past 3 years bringing strong leadership and enthusiasm to their team to ensure guest satisfaction and safety is always met. In her down time Alix is passionate about diving and is skilled in Vinyasa yoga. Alix is dedicated to creating unforgettable memories and an exceptional standard of service for her guests onboard REFLECTIONS, so do not hesitate to ask!

STEWARDESS SYDNEY PITVOREC
Sydney is a 25 year-old from South Carolina, where she attended the University of South Carolina. After University, she joined Teach for America and spent the last three years teaching middle school English
in Nashville, Tennessee. While teaching, she found happiness by the ocean, spending the summers waitressing and bartending in a small town on the Outer Banks of North Carolina, where she first heard about the yachting industry. In her free time, she enjoys traveling, photography, skiing and being on the water. Sydney is looking forward to giving guests onboard Reflections the best experience possible!

MATE/ENGINEER MIGUEL DIAZ
Miguel joins us from Mazatlan Sinaloa Mexico, where he started his career on the water in commercial Tuna fishing along the pacific coast in 2016. In 2019 Miguel joined offshore supply ships as second mate on vessels up to 3000gt. It did not take long for Miguel to crave a taste of luxury and join the super yachting industry cursing through panama, Columbia, Bahamas and Florida on M/Y Nana 1 and M/Y C. Miguel is very excited to join us on Reflections and return to cruising around Panama where he would like to base himself one day in the future. Outside of work Miguel is a keen surfer, long distance swimmer and fisherman.

DECKHAND CARMEL MANGUILIMOTAN
Carmel is originally from The Philippines, a seafaring nation, and was exposed early to life at sea. Carmel started his maritime career in commercial shipping in 2011 and made the transition to yachting in 2013. Carmel has extensive experience cruising to locations worldwide including most of Asia, the US and the Pacific coast of Mexico, the US East Coast, Canada, the Bahamas, and the Caribbean. He loves to stay active shooting hoops and doing all sorts of watersports. Carmel is looking forward to helping the REFLECTIONS team provide top level service while creating amazing experiences for all guests that come aboard! When Carmel smiles, you will too!!!

CHEF AMY WIFFEN
South African born but worldly raised, Amy's love of traveling led her into the galley with insatiable curiousness and immersing herself into different cultures and cuisines. She dreams of owning a farm to table restaurant on the beach in Mallorca, Spain. In her spare time, she's brewing her own IPA's, hiking, wine tasting and mushroom foraging. Amy Joined Reflections in November 2022 and is ready to get stuck into the season whipping up some culinary creations for all her guests.
Gallery
6692
http://www.centralyachtagent.com/snapins/json-ebrochure.php?idin=6692&uid=2395&user=2395
5
Power
N
10
Bahamas, USA - New England, USA - Great Lakes
Bahamas, Belize
124.00
27
7
33' Everglades tender w/ 2x425 hp Yamahas (2019)<br /> 18' Novurania Rib tender<br /> (2) Yamaha Wave runners (2018)<br /> Ronix district Wakeboard & boots (2019)<br /> Airhead G-force towable tube<br /> (2) Paddle boards<br /> Fishing gear<br /> Full selection pole spears<br /> Snorkel gear<br /> Towable tubes<br /> Assorted beach games (bocce balls)<br /> Beach party set up (canopy, chairs)<br /> yoga mats<br />
a:35:{s:12:"salon_stereo";s:3:"Yes";s:8:"salon_tv";s:3:"Yes";s:6:"sat_tv";s:3:"Yes";s:17:"multimedia_system";s:3:"Yes";s:4:"nude";s:3:"Inq";s:5:"books";s:3:"yes";s:9:"crew_pets";s:2:"No";s:8:"pet_type";s:0:"";s:10:"guest_pets";s:1:"0";s:9:"camcorder";s:1:"0";s:14:"number_dine_in";s:0:"";s:11:"water_maker";s:0:"";s:14:"water_capacity";s:0:"";s:9:"ice_maker";s:3:"Yes";s:14:"number_of_dvds";s:0:"";s:13:"number_of_cds";s:0:"";s:11:"board_games";s:3:"Yes";s:10:"sun_awning";s:3:"Yes";s:6:"bimini";s:3:"Yes";s:13:"special_diets";s:3:"Inq";s:6:"kosher";s:3:"Inq";s:3:"bbq";s:3:"Yes";s:12:"gay_charters";s:3:"Inq";s:17:"yachtNudeCharters";s:3:"Inq";s:10:"hairdryers";s:1:"0";s:22:"number_of_port_hatches";s:0:"";s:7:"smoking";s:0:"";s:11:"crew_smokes";s:3:"Inq";s:11:"children_ok";s:3:"Yes";s:17:"minimum_child_age";s:0:"";s:9:"generator";s:0:"";s:8:"inverter";s:0:"";s:8:"voltages";s:0:"";s:7:"hammock";s:0:"";s:10:"windscoops";s:0:"";}
Full
Yes
Onboard WIFI
2x DDC/ MTU 16V -2000
1999
Christensen
REFLECTIONS accommodates 10 guests in 5 spacious staterooms. The on-deck master stateroom as a king bed, full width His and Hers bath with marble shower and Jacuzzi tub. Below deck there four guest staterooms to include two VIP Queen staterooms aft to port and starboard. Forward, is an additional Queen stateroom and to starboard is the twin stateroom to port. All guest staterooms have an en-suite bath.
USD
$
87500
87500
87500
Christmas/ New Years - 10 night minimum OR for one week over either holiday please add 15% ** EFFECTIVE JULY 1, 2022 - 10% VAT will need to be quoted for all Bahamas charters in addition to the 4% Charter Tax **
a:16:{s:4:"info";s:4673:"CAPTAIN DARREN SHEPHERD<br /> Darren grew up on the south coast of England in a small seaside town where he spent his youth sailing. At the age of 18 he became a sailing instructor and went on to work for 6 years at vacation resorts teaching various watersports working his way up manager of the training school. Finding a natural progression into yachting Darren has spent the last 7 years cruising all over the Mediterranean and Caribbean onboard yachts ranging from 70ft-165ft. As a certified Dive Master Darren loves exploring the oceans both above and below the water line. Having completed many charters and extensive long passages through his career, including remote places, working with and catering to different nationalities and client preferences Darren is able to adapt quickly to any client's needs to ensure the ultimate experience is delivered by his crew, whether it be action packed watersports you are looking for or a relaxing week of cruising and fine dining. Darren will see it done! <br /> <br /> CHIEF STEWARDESS ALIX SLIWINSKI<br /> Alix is from Cornwall in the southwest of England, where she worked in high-end restaurants & hotels in exquisite beachfront locations. Since 2013 she has worked on both private & charter yachts cruising throughout the Mediterranean, Caribbean & Bahamas. During this time Alix has catered to numerous UHNWI and celebrity charter clients on 100- 230ft yachts. In 2018 Alix joined M/Y Trending a 164ft Westport as chief stew, onboard she captivated guests with her elaborate theme nights, displaying true empathy for guest experience. On Trending she met Darren Shepherd and since then they have been working side-by-side for the past 3 years bringing strong leadership and enthusiasm to their team to ensure guest satisfaction and safety is always met. In her down time Alix is passionate about diving and is skilled in Vinyasa yoga. Alix is dedicated to creating unforgettable memories and an exceptional standard of service for her guests onboard REFLECTIONS, so do not hesitate to ask!<br /> <br /> STEWARDESS SYDNEY PITVOREC<br /> Sydney is a 25 year-old from South Carolina, where she attended the University of South Carolina. After University, she joined Teach for America and spent the last three years teaching middle school English<br /> in Nashville, Tennessee. While teaching, she found happiness by the ocean, spending the summers waitressing and bartending in a small town on the Outer Banks of North Carolina, where she first heard about the yachting industry. In her free time, she enjoys traveling, photography, skiing and being on the water. Sydney is looking forward to giving guests onboard Reflections the best experience possible!<br /> <br /> MATE/ENGINEER MIGUEL DIAZ<br /> Miguel joins us from Mazatlan Sinaloa Mexico, where he started his career on the water in commercial Tuna fishing along the pacific coast in 2016. In 2019 Miguel joined offshore supply ships as second mate on vessels up to 3000gt. It did not take long for Miguel to crave a taste of luxury and join the super yachting industry cursing through panama, Columbia, Bahamas and Florida on M/Y Nana 1 and M/Y C. Miguel is very excited to join us on Reflections and return to cruising around Panama where he would like to base himself one day in the future. Outside of work Miguel is a keen surfer, long distance swimmer and fisherman. <br /> <br /> DECKHAND CARMEL MANGUILIMOTAN<br /> Carmel is originally from The Philippines, a seafaring nation, and was exposed early to life at sea. Carmel started his maritime career in commercial shipping in 2011 and made the transition to yachting in 2013. Carmel has extensive experience cruising to locations worldwide including most of Asia, the US and the Pacific coast of Mexico, the US East Coast, Canada, the Bahamas, and the Caribbean. He loves to stay active shooting hoops and doing all sorts of watersports. Carmel is looking forward to helping the REFLECTIONS team provide top level service while creating amazing experiences for all guests that come aboard! When Carmel smiles, you will too!!! <br /> <br /> CHEF AMY WIFFEN<br /> South African born but worldly raised, Amy's love of traveling led her into the galley with insatiable curiousness and immersing herself into different cultures and cuisines. She dreams of owning a farm to table restaurant on the beach in Mallorca, Spain. In her spare time, she's brewing her own IPA's, hiking, wine tasting and mushroom foraging. Amy Joined Reflections in November 2022 and is ready to get stuck into the season whipping up some culinary creations for all her guests. ";s:5:"photo";s:0:"";s:4:"size";s:1:"6";s:12:"captain_name";s:15:"Darren Shepherd";s:14:"captain_nation";s:8:"American";s:12:"captain_born";s:1:"0";s:15:"captain_license";s:0:"";s:18:"captain_yr_sailing";s:1:"0";s:21:"captain_yr_chartering";s:1:"0";s:17:"captain_languages";s:0:"";s:9:"crew_name";s:0:"";s:16:"crew_nationality";s:0:"";s:12:"crew_license";s:0:"";s:15:"crew_yr_sailing";s:1:"0";s:18:"crew_yr_chartering";s:1:"0";s:7:"crewimg";a:6:{i:1;a:2:{s:3:"url";s:76:"https://www.centralyachtagent.com/yachtadmin/yachtlg/yacht6692/6692crew1.jpg";s:4:"desc";s:7:"Captain";}i:2;a:2:{s:3:"url";s:76:"https://www.centralyachtagent.com/yachtadmin/yachtlg/yacht6692/6692crew2.jpg";s:4:"desc";s:16:"Chief Stewardess";}i:3;a:2:{s:3:"url";s:73:"https://www.centralyachtagent.com/yachtadmin/yachtimg/yacht6692/6692crew3";s:4:"desc";s:10:"Stewardess";}i:4;a:2:{s:3:"url";s:73:"https://www.centralyachtagent.com/yachtadmin/yachtimg/yacht6692/6692crew4";s:4:"desc";s:13:"Mate/Engineer";}i:5;a:2:{s:3:"url";s:76:"https://www.centralyachtagent.com/yachtadmin/yachtlg/yacht6692/6692crew5.jpg";s:4:"desc";s:8:"Deckhand";}i:6;a:2:{s:3:"url";s:73:"https://www.centralyachtagent.com/yachtadmin/yachtimg/yacht6692/6692crew6";s:4:"desc";s:4:"Chef";}}}
https://www.centralyachtagent.com/yachtadmin/yachtlg/yacht6692/6692brochure1.jpg
This is the third charter yacht REFLECTIONS for her proud owners. They began yachting with an 85' Pacific Mariner, then a 107' Christensen and are now happy to be offering the five stateroom, 124' Christensen for charter. They love Bahamas cruising and are currently outfitting REFLECTIONS with a new updated interior, full list of water toys, towed tender and of course a proven, experienced charter crew. The space on board this 124' yacht is immediately felt in her width and her layout. REFLECTIONS aft deck dining and lowered bar area offer space for the entire group. Entering the main salon, you are greeted by a cheerful fish aquarium, spacious, comfortable salon with bar and formal dining. Moving forward on deck, enter the master stateroom with king bed and his and hers open master bathroom including a shower and Jacuzzi tub with plenty of natural light. Below are four additional staterooms, all with en-suite bathrooms and comfortable amenities for guests. There are three queens for couples and a room with twin beds as well. Upstairs on the fly bridge, be treated to a highly customized deck area and the most popular spot on board. REFLECTIONS expansive fly bridge offers three captain's chairs, a full dining area, bar, BBQ grill, huge Jacuzzi and sun pads, a hammock for the ultimate relaxation, sun lounges aft when the toys are in the water and all with the choice of shade or sun. Come enjoy all the Bahamas and REFLECTIONS have to offer!
a:18:{i:2;a:2:{s:3:"url";s:80:"https://www.centralyachtagent.com/yachtadmin/yachtlg/yacht6692/6692brochure2.jpg";s:4:"desc";s:11:"Main Salon ";}i:3;a:2:{s:3:"url";s:80:"https://www.centralyachtagent.com/yachtadmin/yachtlg/yacht6692/6692brochure3.jpg";s:4:"desc";s:13:"Dining Salon ";}i:4;a:2:{s:3:"url";s:80:"https://www.centralyachtagent.com/yachtadmin/yachtlg/yacht6692/6692brochure4.jpg";s:4:"desc";s:10:"Main salon";}i:5;a:2:{s:3:"url";s:80:"https://www.centralyachtagent.com/yachtadmin/yachtlg/yacht6692/6692brochure5.jpg";s:4:"desc";s:11:"Pilot House";}i:6;a:2:{s:3:"url";s:80:"https://www.centralyachtagent.com/yachtadmin/yachtlg/yacht6692/6692brochure6.jpg";s:4:"desc";s:30:"On deck King master stateroom ";}i:7;a:2:{s:3:"url";s:80:"https://www.centralyachtagent.com/yachtadmin/yachtlg/yacht6692/6692brochure7.jpg";s:4:"desc";s:25:"His and Hers Master bath ";}i:8;a:2:{s:3:"url";s:80:"https://www.centralyachtagent.com/yachtadmin/yachtlg/yacht6692/6692brochure8.jpg";s:4:"desc";s:24:"Queen guest stateroom 1 ";}i:9;a:2:{s:3:"url";s:80:"https://www.centralyachtagent.com/yachtadmin/yachtlg/yacht6692/6692brochure9.jpg";s:4:"desc";s:11:"Guest Bath ";}i:10;a:2:{s:3:"url";s:81:"https://www.centralyachtagent.com/yachtadmin/yachtlg/yacht6692/6692brochure10.jpg";s:4:"desc";s:24:"Queen guest stateroom 2 ";}i:11;a:2:{s:3:"url";s:81:"https://www.centralyachtagent.com/yachtadmin/yachtlg/yacht6692/6692brochure11.jpg";s:4:"desc";s:11:"Guest bath ";}i:12;a:2:{s:3:"url";s:81:"https://www.centralyachtagent.com/yachtadmin/yachtlg/yacht6692/6692brochure12.jpg";s:4:"desc";s:21:"Twin guest stateroom ";}i:13;a:2:{s:3:"url";s:81:"https://www.centralyachtagent.com/yachtadmin/yachtlg/yacht6692/6692brochure13.jpg";s:4:"desc";s:11:"Guest bath ";}i:14;a:2:{s:3:"url";s:81:"https://www.centralyachtagent.com/yachtadmin/yachtlg/yacht6692/6692brochure14.jpg";s:4:"desc";s:10:"Flybridge ";}i:15;a:2:{s:3:"url";s:81:"https://www.centralyachtagent.com/yachtadmin/yachtlg/yacht6692/6692brochure15.jpg";s:4:"desc";s:24:"Flybridge seating foward";}i:16;a:2:{s:3:"url";s:81:"https://www.centralyachtagent.com/yachtadmin/yachtlg/yacht6692/6692brochure16.jpg";s:4:"desc";s:13:"Flybridge Bar";}i:17;a:2:{s:3:"url";s:81:"https://www.centralyachtagent.com/yachtadmin/yachtlg/yacht6692/6692brochure17.jpg";s:4:"desc";s:8:"Jacuzzi ";}i:18;a:2:{s:3:"url";s:81:"https://www.centralyachtagent.com/yachtadmin/yachtlg/yacht6692/6692brochure18.jpg";s:4:"desc";s:9:"Aft deck ";}i:19;a:2:{s:3:"url";s:81:"https://www.centralyachtagent.com/yachtadmin/yachtlg/yacht6692/6692brochure19.jpg";s:4:"desc";s:9:"Aft deck ";}}
<p style="text-align: center;"><strong>Chef Jaimey&rsquo;s Sample Menu</strong></p> <p style="text-align: center;">&nbsp;</p> <p style="text-align: center;"><strong>BREAKFAST</strong></p> <p style="text-align: center;"><strong>&nbsp;</strong></p> <p style="text-align: center;">Traditional or Smoked Salmon Eggs Benedict with Homemade Hollandaise Sauce served with skillet home-fries</p> <p style="text-align: center;">&nbsp;</p> <p style="text-align: center;">Huevos&nbsp;Rancheros with Homemade Rancheros Sauce, Black Beans, Avocado and Fresh Salsa Served on a Cheesy Corn Tortilla</p> <p style="text-align: center;">&nbsp;</p> <p style="text-align: center;">Quiche: Sausage, Mushroom, Spinach and Cheese</p> <p style="text-align: center;">&nbsp;</p> <p style="text-align: center;">Baked French Toast Casserole served with Berry Compote Yogurt, Breakfast Sausages and Fresh Fruit</p> <p style="text-align: center;">&nbsp;</p> <p style="text-align: center;">Toasted Everything Bagels Stacks with melted cheddar cheese, pesto, fried egg, fresh Spinach, sliced tomato and avocado</p> <p style="text-align: center;">&nbsp;</p> <p style="text-align: center;">Breakfast Skillet - Fried Eggs baked on top of Saut&eacute;ed Sweet Potatoes and Veggie Hash, Served with Sour Cream, Fresh Tomato Salsa</p> <p style="text-align: center;">&nbsp;</p> <p style="text-align: center;">Breakfast Burritos with Chorizo Sausage, Spinach, Peppers and Onions served with Sour Cream and Salsa</p> <p style="text-align: center;">&nbsp;</p> <p style="text-align: center;">All breakfast is served with fresh fruit platter, Homemade Granola and Daily Homemade Fresh Baked Goods, Tea, Coffee and Juice</p> <p style="text-align: center;">&nbsp;</p> <p style="text-align: center;">Daily Homemade Baked Goods Include:</p> <p style="text-align: center;">Apple Oatmeal Muffins, Blueberry Scones, Morning Glory Muffins, Cinnamon Buns, Baked Steal Cut Oatmeal, Banana Bread</p> <p style="text-align: center;">&nbsp;</p> <p style="text-align: center;"><strong>LUNCH</strong></p> <p style="text-align: center;"><strong>&nbsp;</strong></p> <p style="text-align: center;">Chef&rsquo;s salad with Balsamic Marinated Grilled Chicken and Fresh Homemade Artesian Bread</p> <p style="text-align: center;">&nbsp;</p> <p style="text-align: center;">Super Chop Salad topped with Grilled Salmon - Chopped Kale and</p> <p style="text-align: center;">Spinach with Pumpkin Seeds, Sliced Orange, Red Onion and Feta Cheese with Quinoa Served with Multigrain Seeded Artesian Bread</p> <p style="text-align: center;">&nbsp;</p> <p style="text-align: center;">Homemade Falafel with Tzatziki, Greek Salad and Warm Homemade Grilled Flatbread</p> <p style="text-align: center;">&nbsp;</p> <p style="text-align: center;">Sesame Noodle Shrimp Bowl with Fresh Chopped Veggies and Homemade Peanut Vinaigrette</p> <p style="text-align: center;">&nbsp;</p> <p style="text-align: center;">Grilled Flank Steak Hoisin Lettuce Wraps served with Jasmine Rice and Mixed Julian Vegetables</p> <p style="text-align: center;">&nbsp;</p> <p style="text-align: center;">Grouper Fish Taco&rsquo;s served with Cilantro Ginger Lime Slaw, Fresh Guacamole, Fresh Tomato Salsa and Crispy Corn Tortilla</p> <p style="text-align: center;">&nbsp;</p> <p style="text-align: center;">Seared Tuna Ni&ccedil;oise Salad with Marinaded Baby Potatoes, Cherry Tomatoes, Blanched Green Beans, Red Onion, Kalamata Olives and House-made Italian Vinaigrette served with Fresh Homemade Focaccia</p> <p style="text-align: center;">&nbsp;</p> <p style="text-align: center;">Cheese Burgers with Swiss Cheese, Saut&eacute;ed Mushrooms and Fried Onions served with Parmesan Potato Fries and Garden Salad</p> <p style="text-align: center;">&nbsp;</p> <p style="text-align: center;"><strong>APPETIZER (SUN DOWNERS!)</strong></p> <p style="text-align: center;"><strong>&nbsp;</strong></p> <p style="text-align: center;">Fried Brie topped with Fig Preserves and Crispy Bacon served with warm crusty bread</p> <p style="text-align: center;">&nbsp;</p> <p style="text-align: center;">Creamy Lemony Spinach and Artichoke Dip with Tortilla Chips</p> <p style="text-align: center;">&nbsp;</p> <p style="text-align: center;">Greek Platter with Hummus, Tzatziki, Olive Tapenade, Warm Pita Bread and Crudit&eacute;</p> <p style="text-align: center;">&nbsp;</p> <p style="text-align: center;">Grilled Flatbread with Gruyere Cheese, Saut&eacute;ed Onions and Steak topped with Chimichurri Sauce</p> <p style="text-align: center;">&nbsp;</p> <p style="text-align: center;">Charcuterie Platter with mixed cheese, Olives and Cured Meats</p> <p style="text-align: center;">&nbsp;</p> <p style="text-align: center;">Homemade Coconut Shrimp with Thai Sweet Chili Sauce</p> <p style="text-align: center;">&nbsp;</p> <p style="text-align: center;">Chicken Satay with Homemade Peanut Sauce</p> <p style="text-align: center;">&nbsp;</p> <p style="text-align: center;">Sausage Stuffed Balsamic Mushrooms Topped with Parmesan Cheese and Baked</p> <p style="text-align: center;">&nbsp;</p> <p style="text-align: center;">&nbsp;</p> <p style="text-align: center;"><strong>STARTERS</strong></p> <p style="text-align: center;"><strong>&nbsp;</strong></p> <p style="text-align: center;">Roasted beet, Fresh Mozzarella and Avocado Salad Topped with Cucumber and Lemon Salsa and Drizzled with Roasted Garlic Balsamic</p> <p style="text-align: center;">&nbsp;</p> <p style="text-align: center;">Butternut Squash and Sweet Potato Soup with a dollop of Cr&egrave;me Fresh and Chives</p> <p style="text-align: center;">&nbsp;</p> <p style="text-align: center;">Tuna Poke &ndash; Fresh Ahi Tuna marinated in sesame oil and soy sauce, served on a wonton with wasabi drizzle</p> <p style="text-align: center;">&nbsp;</p> <p style="text-align: center;">Carnalized Onion and Brie Tart Topped with Fresh Arugula and Drizzled with Fig Glaze</p> <p style="text-align: center;">&nbsp;</p> <p style="text-align: center;">Fresh Catch Citrus Ceviche served with crispy plantain chips</p> <p style="text-align: center;">&nbsp;</p> <p style="text-align: center;">Roasted Cauliflower topped with Pumpkin Seeds, Dried Cherries and Green Goddess Drizzle</p> <p style="text-align: center;">&nbsp;</p> <p style="text-align: center;">Coconut Curry Mussels Served with Crusty Bread</p> <p style="text-align: center;">&nbsp;</p> <p style="text-align: center;">Grilled Pears and Arugula Wrapped in Prosciutto, Topped with Gorgonzola, Candied Pecans and Fig Vinaigrette&nbsp;</p> <p style="text-align: center;">&nbsp;</p> <p style="text-align: center;"><strong>DINNER</strong></p> <p style="text-align: center;"><strong>&nbsp;</strong></p> <p style="text-align: center;">Marinated Grilled Lobster with Tomato Bacon Butter, Gouda Polenta and Spinach Basil Pesto served with Prosciutto Wrapped Green Beans</p> <p style="text-align: center;">&nbsp;</p> <p style="text-align: center;">Coffee and Coco Rubbed Grilled Fillet with an Ancho Chili Sauce, roasted` asparagus and Salt and Vinegar Smashed Potatoes</p> <p style="text-align: center;">&nbsp;</p> <p style="text-align: center;">Jerk Spiced and 24 Marinated Pork Tenderloin with Homemade Pineapple Chutney, sweet potato au gratin and Green Beans Saut&eacute;ed with Cashews and Shallots</p> <p style="text-align: center;">&nbsp;</p> <p style="text-align: center;">Red Wine Braised Beef Short Ribs with Cauliflower Puree, Roasted Fennel and Maple Roasted Brussel Sprouts</p> <p style="text-align: center;">&nbsp;</p> <p style="text-align: center;">Portuguese Seafood Bouillabaisse &ndash; Mixed Seafood in a Seafood Tomato Broth Served with Warm Homemade Crusty Bread</p> <p style="text-align: center;">&nbsp;</p> <p style="text-align: center;">Grilled Blackened Mahi Mahi Topped with Fresh Mango Salsa and Cilantro and Yellow Pepper Pesto and served with Toasted Almond Coconut Rice, Saut&eacute;ed Snow Peas</p> <p style="text-align: center;">&nbsp;</p> <p style="text-align: center;">Coconut Chicken or Shrimp Curry served with Jasmine Rice and Roasted Cauliflower and Broccoli</p> <p style="text-align: center;">&nbsp;</p> <p style="text-align: center;">Roasted Vegetable Lasagna &ndash; Fresh Vegetable Bolognese and Ricotta Bechamel layered between Fresh Homemade Pasta and topped with Fresh Mozzarella and Parmesan. Served with Roasted Garlic Kale Caesar Salad and Homemade Garlic Knots</p> <p style="text-align: center;">&nbsp;</p> <p style="text-align: center;"><strong>&nbsp;</strong></p> <p style="text-align: center;"><strong>DESSERT</strong></p> <p style="text-align: center;"><strong>&nbsp;</strong></p> <p style="text-align: center;">Warm Chocolate Fondant with Vanilla Ice Cream, Salted Caramel and Raspberry Sauce</p> <p style="text-align: center;">&nbsp;</p> <p style="text-align: center;">New York Style Cheesecake topped with Mango, Strawberries and Blueberries</p> <p style="text-align: center;">&nbsp;</p> <p style="text-align: center;">Rum Chocolate Ganache Pots</p> <p style="text-align: center;">&nbsp;</p> <p style="text-align: center;">Fresh Homemade Key Lime Pie with Graham Cracker Crust and Meringue Topping</p> <p style="text-align: center;">&nbsp;</p> <p style="text-align: center;">Poached Pears in Red Wine with Mascarpone Cream and Dark Chocolate Drizzle</p> <p style="text-align: center;">&nbsp;</p> <p style="text-align: center;">Rum Fudge Pie</p> <p style="text-align: center;">&nbsp;</p> <p style="text-align: center;">Lemon Berry Parfaits</p> <p style="text-align: center;">&nbsp;</p> <p style="text-align: center;">Pana cotta topped with Fresh Berries and Raspberry and Passion Fruit Puree</p> <p style="text-align: center;">&nbsp;</p> <p style="text-align: center;">Vanilla Cream Brule Torched to Perfection</p> <p style="text-align: center;">&nbsp;</p> <p style="text-align: center;">Carrot Cake with Pineapple Cream Cheese Frosting and Pralines and Cream Ice Cream</p>
a:1:{i:1;a:1:{s:3:"url";s:76:"https://www.centralyachtagent.com/yachtadmin/yachtlg/yacht6692/6692menu1.jpg";}}
http://www.cyabrochure.com/ebn/2395/pdhaX/6692/1
http://www.cyabrochure.com/ebn/2395/pdhaX/6692/3
https://www.centralyachtagent.com/yachtadmin/yachtimg/yacht6692/6692brochure99.jpg
a:24:{s:4:"tube";s:3:"Yes";s:6:"guests";s:2:"10";s:8:"maxspeed";s:8:"20 knots";s:11:"pref_pickup";N;s:12:"other_pickup";N;s:5:"draft";s:1:"7";s:14:"cruising_speed";s:8:"14 knots";s:7:"helipad";s:2:"No";s:2:"ac";s:4:"Full";s:8:"ac_night";s:3:"Yes";s:5:"built";s:4:"1999";s:10:"turnaround";s:0:"";s:6:"cabins";s:1:"5";s:4:"king";s:1:"1";s:5:"queen";s:1:"3";s:6:"double";s:1:"0";s:6:"single";s:1:"0";s:4:"twin";s:1:"1";s:7:"pullman";s:1:"0";s:7:"showers";s:1:"0";s:6:"basins";s:1:"0";s:5:"heads";s:1:"7";s:14:"electric_heads";s:1:"0";s:7:"jacuzzi";s:3:"Yes";}
a:7:{s:4:"flag";s:7:"JAMAICA";s:8:"homeport";s:11:"New England";s:13:"resort_course";s:0:"";s:12:"yacht_permit";s:1:"0";s:13:"yacht_license";s:1:"0";s:9:"yacht_mca";s:1:"0";s:15:"yacht_insurance";s:0:"";}
-Denon Surround System with AppleTV, Bluray, Airplay & Spotify w/ Distributed Audio throughout Vessel<br /> -Individual A/V Systems in each Stateroom w/ DirecTV, Bluray and CD/BT Audio<br />
a:22:{s:11:"dinghy_size";s:20:"33' Everglades 2019";s:12:"kayaks_1_pax";s:3:"Yes";s:12:"kayaks_2_pax";s:1:"0";s:9:"dinghy_hp";s:8:"2x 425hp";s:13:"floating_mats";s:3:"Yes";s:10:"dinghy_pax";s:0:"";s:13:"swim_platform";s:3:"yes";s:16:"water_skis_adult";s:3:"Yes";s:15:"boarding_ladder";s:0:"";s:15:"water_skis_kids";s:3:"Yes";s:14:"sailing_dinghy";s:3:"18'";s:8:"jet_skis";s:1:"0";s:11:"beach_games";s:3:"Yes";s:12:"wave_runners";s:1:"2";s:9:"kneeboard";s:3:"Yes";s:10:"windsurfer";s:1:"0";s:12:"snorkel_gear";s:3:"Yes";s:17:"underwater_camera";s:1:"0";s:7:"scurfer";s:1:"0";s:16:"underwater_video";s:3:"Yes";s:10:"wake_board";s:3:"Yes";s:11:"paddleboard";s:1:"2";}
1
3
0
0
1
0
2021
0
Yes
Greece
80
14 knots
20 knots
O:8:"stdClass":290:{s:7:"yachtId";s:4:"6692";s:9:"yachtName";s:11:"REFLECTIONS";s:17:"yachtPreviousName";s:6:"Cachee";s:9:"yachtLogo";s:82:"https://www.centralyachtagent.com/yachtadmin/yachtimg/yacht6692/6692brochure99.jpg";s:9:"yachtType";s:5:"Power";s:11:"yachtLength";s:3:"124";s:13:"yachtPowerCat";s:1:"N";s:8:"sizeFeet";s:9:"124.00 Ft";s:9:"sizeMeter";s:7:"37.00 m";s:9:"yachtBeam";s:2:"27";s:10:"yachtDraft";s:1:"7";s:10:"yachtUnits";s:4:"Feet";s:8:"yachtPax";s:2:"10";s:11:"yachtCabins";s:1:"5";s:9:"yachtKing";s:1:"1";s:10:"yachtQueen";s:1:"3";s:17:"yachtSingleCabins";s:1:"0";s:17:"yachtDoubleCabins";s:1:"0";s:15:"yachtTwinCabins";s:1:"1";s:18:"yachtPullmanCabins";s:1:"0";s:10:"yachtRefit";s:4:"2021";s:12:"yachtHelipad";s:2:"No";s:12:"yachtJacuzzi";s:3:"Yes";s:8:"yachtGym";s:3:"Yes";s:16:"yachtStabilizers";s:2:"AU";s:14:"yachtElevators";s:2:"No";s:21:"yachtWheelChairAccess";s:2:"No";s:7:"yachtAc";s:4:"Full";s:15:"yachtPrefPickUp";s:0:"";s:16:"yachtOtherPickUp";s:0:"";s:15:"yachtTurnAround";s:0:"";s:14:"yachtYearBuilt";s:4:"1999";s:12:"yachtBuilder";s:11:"Christensen";s:14:"yachtBrokerWeb";s:36:"http://www.viewyacht.com/reflections";s:12:"yachtUserWeb";s:48:"http://www.cyabrochure.com/ebn/2395/pdhaX/6692/1";s:13:"yachtVideoUrl";s:0:"";s:12:"yachtV360Url";s:0:"";s:16:"yachtCruiseSpeed";s:8:"14 knots";s:13:"yachtMaxSpeed";s:8:"20 knots";s:19:"yachtAccommodations";s:406:"REFLECTIONS accommodates 10 guests in 5 spacious staterooms. The on-deck master stateroom as a king bed, full width His and Hers bath with marble shower and Jacuzzi tub. Below deck there four guest staterooms to include two VIP Queen staterooms aft to port and starboard. Forward, is an additional Queen stateroom and to starboard is the twin stateroom to port. All guest staterooms have an en-suite bath. ";s:14:"yachtHighPrice";s:11:"$87,500";s:13:"yachtLowPrice";s:11:"$87,500";s:21:"yachtHighNumericPrice";s:5:"87500";s:20:"yachtLowNumericPrice";s:5:"87500";s:19:"yachtCurrencySymbol";s:5:"$";s:13:"yachtCurrency";s:3:"USD";s:17:"yachtPriceDetails";s:214:"Christmas/ New Years - 10 night minimum OR for one week over either holiday please add 15% ** EFFECTIVE JULY 1, 2022 - 10% VAT will need to be quoted for all Bahamas charters in addition to the 4% Charter Tax **";s:14:"yachtTermsType";s:13:"Plus Expenses";s:17:"yachtTermsTypeNum";s:1:"0";s:11:"yachtVcrDvd";s:3:"Yes";s:16:"yachtSalonStereo";s:3:"Yes";s:11:"yachtNumDvd";s:0:"";s:11:"yachtNumCds";s:0:"";s:15:"yachtBoardGames";s:3:"Yes";s:13:"yachtNumBooks";s:3:"yes";s:14:"yachtCamCorder";s:1:"0";s:14:"yachtNumDineIn";s:0:"";s:14:"yachtSunAwning";s:3:"Yes";s:12:"yachtHammock";s:0:"";s:15:"yachtWindScoops";s:0:"";s:15:"yachtDeckShower";s:1:"0";s:11:"yachtBimini";s:3:"Yes";s:17:"yachtSpecialDiets";s:3:"Inq";s:11:"yachtKosher";s:3:"Inq";s:8:"yachtBBQ";s:3:"Yes";s:16:"yachtGayCharters";s:3:"Inq";s:17:"yachtNudeCharters";s:3:"Inq";s:14:"yachtHairDryer";s:1:"0";s:13:"yachtNumHatch";s:0:"";s:15:"yachtGuestSmoke";s:0:"";s:13:"yachtGuestPet";s:1:"0";s:20:"yachtChildrenAllowed";s:3:"Yes";s:16:"yachtMinChildAge";s:0:"";s:14:"yachtGenerator";s:0:"";s:12:"yachtEngines";s:21:"2x DDC/ MTU 16V -2000";s:9:"yachtFuel";s:2:"80";s:13:"yachtInverter";s:0:"";s:13:"yachtVoltages";s:0:"";s:15:"yachtWaterMaker";s:0:"";s:18:"yachtWaterCapacity";s:0:"";s:13:"yachtIceMaker";s:3:"Yes";s:11:"yachtDinghy";s:20:"33' Everglades 2019";s:13:"yachtDinghyHp";s:8:"2x 425hp";s:14:"yachtDinghyPax";s:0:"";s:15:"yachtAdultWSkis";s:3:"Yes";s:13:"yachtKidsSkis";s:3:"Yes";s:12:"yachtJetSkis";s:1:"0";s:12:"yachtWaveRun";s:1:"2";s:14:"yachtKneeBoard";s:3:"Yes";s:18:"yachtStandUpPaddle";s:1:"2";s:13:"yachtWindSurf";s:1:"0";s:16:"yachtGearSnorkel";s:3:"Yes";s:9:"yachtTube";s:3:"Yes";s:12:"yachtScurfer";s:1:"0";s:14:"yachtWakeBoard";s:3:"Yes";s:14:"yacht1ManKayak";s:3:"Yes";s:14:"yacht2ManKayak";s:1:"0";s:11:"yachtSeaBob";s:2:"No";s:15:"yachtSeaScooter";s:2:"No";s:17:"yachtKiteBoarding";s:0:"";s:24:"yachtKiteBoardingDetails";s:0:"";s:15:"yachtFishPermit";s:0:"";s:14:"yachtFloatMats";s:3:"Yes";s:17:"yachtSwimPlatform";s:3:"yes";s:19:"yachtBoardingLadder";s:0:"";s:18:"yachtDinghySailing";s:3:"18'";s:15:"yachtGamesBeach";s:3:"Yes";s:16:"yachtFishingGear";s:3:"Yes";s:17:"yachtFishGearType";s:0:"";s:16:"yachtNumFishRods";s:0:"";s:18:"yachtUnderWaterCam";s:1:"0";s:20:"yachtUnderWaterVideo";s:3:"Yes";s:19:"yachtGreenMakeWater";s:3:"Yes";s:21:"yachtGreenReuseBottle";s:3:"Yes";s:15:"yachtGreenOther";s:0:"";s:17:"yachtScubaOnboard";s:35:"Yacht offers Rendezvous Diving only";s:17:"yachtResortCourse";s:0:"";s:15:"yachtFullCourse";s:0:"";s:16:"yachtLicenseInfo";s:1:"-";s:15:"yachtCompressor";s:11:"Not Onboard";s:17:"yachtNumDiveTanks";s:1:"0";s:11:"yachtNumBCS";s:1:"0";s:12:"yachtNumRegs";s:1:"0";s:16:"yachtNumWetSuits";s:1:"0";s:15:"yachtNumWeights";s:1:"0";s:14:"yachtNumDivers";s:1:"0";s:13:"yachtNumDives";s:0:"";s:18:"yachtNumNightDives";s:1:"0";s:18:"yachtNumDiveLights";s:1:"0";s:13:"yachtDiveInfo";s:0:"";s:14:"yachtDiveCosts";s:0:"";s:9:"yachtPic1";s:80:"https://www.centralyachtagent.com/yachtadmin/yachtlg/yacht6692/6692brochure1.jpg";s:10:"yachtDesc1";s:1479:"This is the third charter yacht REFLECTIONS for her proud owners. They began yachting with an 85' Pacific Mariner, then a 107' Christensen and are now happy to be offering the five stateroom, 124' Christensen for charter. They love Bahamas cruising and are currently outfitting REFLECTIONS with a new updated interior, full list of water toys, towed tender and of course a proven, experienced charter crew. The space on board this 124' yacht is immediately felt in her width and her layout. REFLECTIONS aft deck dining and lowered bar area offer space for the entire group. Entering the main salon, you are greeted by a cheerful fish aquarium, spacious, comfortable salon with bar and formal dining. Moving forward on deck, enter the master stateroom with king bed and his and hers open master bathroom including a shower and Jacuzzi tub with plenty of natural light. Below are four additional staterooms, all with en-suite bathrooms and comfortable amenities for guests. There are three queens for couples and a room with twin beds as well. Upstairs on the fly bridge, be treated to a highly customized deck area and the most popular spot on board. REFLECTIONS expansive fly bridge offers three captain's chairs, a full dining area, bar, BBQ grill, huge Jacuzzi and sun pads, a hammock for the ultimate relaxation, sun lounges aft when the toys are in the water and all with the choice of shade or sun. Come enjoy all the Bahamas and REFLECTIONS have to offer! ";s:9:"yachtPic2";s:80:"https://www.centralyachtagent.com/yachtadmin/yachtlg/yacht6692/6692brochure2.jpg";s:10:"yachtDesc2";s:11:"Main Salon ";s:9:"yachtPic3";s:80:"https://www.centralyachtagent.com/yachtadmin/yachtlg/yacht6692/6692brochure3.jpg";s:10:"yachtDesc3";s:13:"Dining Salon ";s:9:"yachtPic4";s:80:"https://www.centralyachtagent.com/yachtadmin/yachtlg/yacht6692/6692brochure4.jpg";s:10:"yachtDesc4";s:10:"Main salon";s:9:"yachtPic5";s:80:"https://www.centralyachtagent.com/yachtadmin/yachtlg/yacht6692/6692brochure5.jpg";s:10:"yachtDesc5";s:11:"Pilot House";s:9:"yachtPic6";s:80:"https://www.centralyachtagent.com/yachtadmin/yachtlg/yacht6692/6692brochure6.jpg";s:10:"yachtDesc6";s:30:"On deck King master stateroom ";s:9:"yachtPic7";s:80:"https://www.centralyachtagent.com/yachtadmin/yachtlg/yacht6692/6692brochure7.jpg";s:10:"yachtDesc7";s:25:"His and Hers Master bath ";s:9:"yachtPic8";s:80:"https://www.centralyachtagent.com/yachtadmin/yachtlg/yacht6692/6692brochure8.jpg";s:10:"yachtDesc8";s:24:"Queen guest stateroom 1 ";s:9:"yachtPic9";s:80:"https://www.centralyachtagent.com/yachtadmin/yachtlg/yacht6692/6692brochure9.jpg";s:10:"yachtDesc9";s:11:"Guest Bath ";s:10:"yachtPic10";s:81:"https://www.centralyachtagent.com/yachtadmin/yachtlg/yacht6692/6692brochure10.jpg";s:11:"yachtDesc10";s:24:"Queen guest stateroom 2 ";s:10:"yachtPic11";s:81:"https://www.centralyachtagent.com/yachtadmin/yachtlg/yacht6692/6692brochure11.jpg";s:11:"yachtDesc11";s:11:"Guest bath ";s:10:"yachtPic12";s:81:"https://www.centralyachtagent.com/yachtadmin/yachtlg/yacht6692/6692brochure12.jpg";s:11:"yachtDesc12";s:21:"Twin guest stateroom ";s:10:"yachtPic13";s:81:"https://www.centralyachtagent.com/yachtadmin/yachtlg/yacht6692/6692brochure13.jpg";s:11:"yachtDesc13";s:11:"Guest bath ";s:10:"yachtPic14";s:81:"https://www.centralyachtagent.com/yachtadmin/yachtlg/yacht6692/6692brochure14.jpg";s:11:"yachtDesc14";s:10:"Flybridge ";s:10:"yachtPic15";s:81:"https://www.centralyachtagent.com/yachtadmin/yachtlg/yacht6692/6692brochure15.jpg";s:11:"yachtDesc15";s:24:"Flybridge seating foward";s:10:"yachtPic16";s:81:"https://www.centralyachtagent.com/yachtadmin/yachtlg/yacht6692/6692brochure16.jpg";s:11:"yachtDesc16";s:13:"Flybridge Bar";s:10:"yachtPic17";s:81:"https://www.centralyachtagent.com/yachtadmin/yachtlg/yacht6692/6692brochure17.jpg";s:11:"yachtDesc17";s:8:"Jacuzzi ";s:10:"yachtPic18";s:81:"https://www.centralyachtagent.com/yachtadmin/yachtlg/yacht6692/6692brochure18.jpg";s:11:"yachtDesc18";s:9:"Aft deck ";s:10:"yachtPic19";s:81:"https://www.centralyachtagent.com/yachtadmin/yachtlg/yacht6692/6692brochure19.jpg";s:11:"yachtDesc19";s:9:"Aft deck ";s:11:"yachtLayout";s:0:"";s:18:"yachtFullEbrochure";s:48:"http://www.cyabrochure.com/ebn/2395/pdhaX/6692/3";s:14:"yachtFullRates";s:48:"http://www.cyabrochure.com/ebn/2395/pdhaX/6692/4";s:14:"yachtOtherToys";s:435:"33' Everglades tender w/ 2x425 hp Yamahas (2019)<br /> 18' Novurania Rib tender<br /> (2) Yamaha Wave runners (2018)<br /> Ronix district Wakeboard & boots (2019)<br /> Airhead G-force towable tube<br /> (2) Paddle boards<br /> Fishing gear<br /> Full selection pole spears<br /> Snorkel gear<br /> Towable tubes<br /> Assorted beach games (bocce balls)<br /> Beach party set up (canopy, chairs)<br /> yoga mats<br /> ";s:19:"yachtOtherEntertain";s:199:"-Denon Surround System with AppleTV, Bluray, Airplay & Spotify w/ Distributed Audio throughout Vessel<br /> -Individual A/V Systems in each Stateroom w/ DirecTV, Bluray and CD/BT Audio<br /> ";s:16:"yachtCommunicate";s:170:"WiFi with Cellular and Satellite data provided by KYMETA. (Data Usage billed on APA)<br /> VOIP services available via KYMETA at nominal charge<br /> Iridian Sat Phone";s:15:"yachtSummerArea";s:45:"Bahamas, USA - New England, USA - Great Lakes";s:15:"yachtWinterArea";s:15:"Bahamas, Belize";s:12:"yachtShowers";s:1:"0";s:15:"yachtWashBasins";s:1:"0";s:10:"yachtHeads";s:1:"7";s:18:"yachtElectricHeads";s:1:"0";s:14:"yachtTpInHeads";s:0:"";s:15:"yachtSampleMenu";s:11914:"<p style="text-align: center;"><strong>Chef Jaimey&rsquo;s Sample Menu</strong></p> <p style="text-align: center;">&nbsp;</p> <p style="text-align: center;"><strong>BREAKFAST</strong></p> <p style="text-align: center;"><strong>&nbsp;</strong></p> <p style="text-align: center;">Traditional or Smoked Salmon Eggs Benedict with Homemade Hollandaise Sauce served with skillet home-fries</p> <p style="text-align: center;">&nbsp;</p> <p style="text-align: center;">Huevos&nbsp;Rancheros with Homemade Rancheros Sauce, Black Beans, Avocado and Fresh Salsa Served on a Cheesy Corn Tortilla</p> <p style="text-align: center;">&nbsp;</p> <p style="text-align: center;">Quiche: Sausage, Mushroom, Spinach and Cheese</p> <p style="text-align: center;">&nbsp;</p> <p style="text-align: center;">Baked French Toast Casserole served with Berry Compote Yogurt, Breakfast Sausages and Fresh Fruit</p> <p style="text-align: center;">&nbsp;</p> <p style="text-align: center;">Toasted Everything Bagels Stacks with melted cheddar cheese, pesto, fried egg, fresh Spinach, sliced tomato and avocado</p> <p style="text-align: center;">&nbsp;</p> <p style="text-align: center;">Breakfast Skillet - Fried Eggs baked on top of Saut&eacute;ed Sweet Potatoes and Veggie Hash, Served with Sour Cream, Fresh Tomato Salsa</p> <p style="text-align: center;">&nbsp;</p> <p style="text-align: center;">Breakfast Burritos with Chorizo Sausage, Spinach, Peppers and Onions served with Sour Cream and Salsa</p> <p style="text-align: center;">&nbsp;</p> <p style="text-align: center;">All breakfast is served with fresh fruit platter, Homemade Granola and Daily Homemade Fresh Baked Goods, Tea, Coffee and Juice</p> <p style="text-align: center;">&nbsp;</p> <p style="text-align: center;">Daily Homemade Baked Goods Include:</p> <p style="text-align: center;">Apple Oatmeal Muffins, Blueberry Scones, Morning Glory Muffins, Cinnamon Buns, Baked Steal Cut Oatmeal, Banana Bread</p> <p style="text-align: center;">&nbsp;</p> <p style="text-align: center;"><strong>LUNCH</strong></p> <p style="text-align: center;"><strong>&nbsp;</strong></p> <p style="text-align: center;">Chef&rsquo;s salad with Balsamic Marinated Grilled Chicken and Fresh Homemade Artesian Bread</p> <p style="text-align: center;">&nbsp;</p> <p style="text-align: center;">Super Chop Salad topped with Grilled Salmon - Chopped Kale and</p> <p style="text-align: center;">Spinach with Pumpkin Seeds, Sliced Orange, Red Onion and Feta Cheese with Quinoa Served with Multigrain Seeded Artesian Bread</p> <p style="text-align: center;">&nbsp;</p> <p style="text-align: center;">Homemade Falafel with Tzatziki, Greek Salad and Warm Homemade Grilled Flatbread</p> <p style="text-align: center;">&nbsp;</p> <p style="text-align: center;">Sesame Noodle Shrimp Bowl with Fresh Chopped Veggies and Homemade Peanut Vinaigrette</p> <p style="text-align: center;">&nbsp;</p> <p style="text-align: center;">Grilled Flank Steak Hoisin Lettuce Wraps served with Jasmine Rice and Mixed Julian Vegetables</p> <p style="text-align: center;">&nbsp;</p> <p style="text-align: center;">Grouper Fish Taco&rsquo;s served with Cilantro Ginger Lime Slaw, Fresh Guacamole, Fresh Tomato Salsa and Crispy Corn Tortilla</p> <p style="text-align: center;">&nbsp;</p> <p style="text-align: center;">Seared Tuna Ni&ccedil;oise Salad with Marinaded Baby Potatoes, Cherry Tomatoes, Blanched Green Beans, Red Onion, Kalamata Olives and House-made Italian Vinaigrette served with Fresh Homemade Focaccia</p> <p style="text-align: center;">&nbsp;</p> <p style="text-align: center;">Cheese Burgers with Swiss Cheese, Saut&eacute;ed Mushrooms and Fried Onions served with Parmesan Potato Fries and Garden Salad</p> <p style="text-align: center;">&nbsp;</p> <p style="text-align: center;"><strong>APPETIZER (SUN DOWNERS!)</strong></p> <p style="text-align: center;"><strong>&nbsp;</strong></p> <p style="text-align: center;">Fried Brie topped with Fig Preserves and Crispy Bacon served with warm crusty bread</p> <p style="text-align: center;">&nbsp;</p> <p style="text-align: center;">Creamy Lemony Spinach and Artichoke Dip with Tortilla Chips</p> <p style="text-align: center;">&nbsp;</p> <p style="text-align: center;">Greek Platter with Hummus, Tzatziki, Olive Tapenade, Warm Pita Bread and Crudit&eacute;</p> <p style="text-align: center;">&nbsp;</p> <p style="text-align: center;">Grilled Flatbread with Gruyere Cheese, Saut&eacute;ed Onions and Steak topped with Chimichurri Sauce</p> <p style="text-align: center;">&nbsp;</p> <p style="text-align: center;">Charcuterie Platter with mixed cheese, Olives and Cured Meats</p> <p style="text-align: center;">&nbsp;</p> <p style="text-align: center;">Homemade Coconut Shrimp with Thai Sweet Chili Sauce</p> <p style="text-align: center;">&nbsp;</p> <p style="text-align: center;">Chicken Satay with Homemade Peanut Sauce</p> <p style="text-align: center;">&nbsp;</p> <p style="text-align: center;">Sausage Stuffed Balsamic Mushrooms Topped with Parmesan Cheese and Baked</p> <p style="text-align: center;">&nbsp;</p> <p style="text-align: center;">&nbsp;</p> <p style="text-align: center;"><strong>STARTERS</strong></p> <p style="text-align: center;"><strong>&nbsp;</strong></p> <p style="text-align: center;">Roasted beet, Fresh Mozzarella and Avocado Salad Topped with Cucumber and Lemon Salsa and Drizzled with Roasted Garlic Balsamic</p> <p style="text-align: center;">&nbsp;</p> <p style="text-align: center;">Butternut Squash and Sweet Potato Soup with a dollop of Cr&egrave;me Fresh and Chives</p> <p style="text-align: center;">&nbsp;</p> <p style="text-align: center;">Tuna Poke &ndash; Fresh Ahi Tuna marinated in sesame oil and soy sauce, served on a wonton with wasabi drizzle</p> <p style="text-align: center;">&nbsp;</p> <p style="text-align: center;">Carnalized Onion and Brie Tart Topped with Fresh Arugula and Drizzled with Fig Glaze</p> <p style="text-align: center;">&nbsp;</p> <p style="text-align: center;">Fresh Catch Citrus Ceviche served with crispy plantain chips</p> <p style="text-align: center;">&nbsp;</p> <p style="text-align: center;">Roasted Cauliflower topped with Pumpkin Seeds, Dried Cherries and Green Goddess Drizzle</p> <p style="text-align: center;">&nbsp;</p> <p style="text-align: center;">Coconut Curry Mussels Served with Crusty Bread</p> <p style="text-align: center;">&nbsp;</p> <p style="text-align: center;">Grilled Pears and Arugula Wrapped in Prosciutto, Topped with Gorgonzola, Candied Pecans and Fig Vinaigrette&nbsp;</p> <p style="text-align: center;">&nbsp;</p> <p style="text-align: center;"><strong>DINNER</strong></p> <p style="text-align: center;"><strong>&nbsp;</strong></p> <p style="text-align: center;">Marinated Grilled Lobster with Tomato Bacon Butter, Gouda Polenta and Spinach Basil Pesto served with Prosciutto Wrapped Green Beans</p> <p style="text-align: center;">&nbsp;</p> <p style="text-align: center;">Coffee and Coco Rubbed Grilled Fillet with an Ancho Chili Sauce, roasted` asparagus and Salt and Vinegar Smashed Potatoes</p> <p style="text-align: center;">&nbsp;</p> <p style="text-align: center;">Jerk Spiced and 24 Marinated Pork Tenderloin with Homemade Pineapple Chutney, sweet potato au gratin and Green Beans Saut&eacute;ed with Cashews and Shallots</p> <p style="text-align: center;">&nbsp;</p> <p style="text-align: center;">Red Wine Braised Beef Short Ribs with Cauliflower Puree, Roasted Fennel and Maple Roasted Brussel Sprouts</p> <p style="text-align: center;">&nbsp;</p> <p style="text-align: center;">Portuguese Seafood Bouillabaisse &ndash; Mixed Seafood in a Seafood Tomato Broth Served with Warm Homemade Crusty Bread</p> <p style="text-align: center;">&nbsp;</p> <p style="text-align: center;">Grilled Blackened Mahi Mahi Topped with Fresh Mango Salsa and Cilantro and Yellow Pepper Pesto and served with Toasted Almond Coconut Rice, Saut&eacute;ed Snow Peas</p> <p style="text-align: center;">&nbsp;</p> <p style="text-align: center;">Coconut Chicken or Shrimp Curry served with Jasmine Rice and Roasted Cauliflower and Broccoli</p> <p style="text-align: center;">&nbsp;</p> <p style="text-align: center;">Roasted Vegetable Lasagna &ndash; Fresh Vegetable Bolognese and Ricotta Bechamel layered between Fresh Homemade Pasta and topped with Fresh Mozzarella and Parmesan. Served with Roasted Garlic Kale Caesar Salad and Homemade Garlic Knots</p> <p style="text-align: center;">&nbsp;</p> <p style="text-align: center;"><strong>&nbsp;</strong></p> <p style="text-align: center;"><strong>DESSERT</strong></p> <p style="text-align: center;"><strong>&nbsp;</strong></p> <p style="text-align: center;">Warm Chocolate Fondant with Vanilla Ice Cream, Salted Caramel and Raspberry Sauce</p> <p style="text-align: center;">&nbsp;</p> <p style="text-align: center;">New York Style Cheesecake topped with Mango, Strawberries and Blueberries</p> <p style="text-align: center;">&nbsp;</p> <p style="text-align: center;">Rum Chocolate Ganache Pots</p> <p style="text-align: center;">&nbsp;</p> <p style="text-align: center;">Fresh Homemade Key Lime Pie with Graham Cracker Crust and Meringue Topping</p> <p style="text-align: center;">&nbsp;</p> <p style="text-align: center;">Poached Pears in Red Wine with Mascarpone Cream and Dark Chocolate Drizzle</p> <p style="text-align: center;">&nbsp;</p> <p style="text-align: center;">Rum Fudge Pie</p> <p style="text-align: center;">&nbsp;</p> <p style="text-align: center;">Lemon Berry Parfaits</p> <p style="text-align: center;">&nbsp;</p> <p style="text-align: center;">Pana cotta topped with Fresh Berries and Raspberry and Passion Fruit Puree</p> <p style="text-align: center;">&nbsp;</p> <p style="text-align: center;">Vanilla Cream Brule Torched to Perfection</p> <p style="text-align: center;">&nbsp;</p> <p style="text-align: center;">Carrot Cake with Pineapple Cream Cheese Frosting and Pralines and Cream Ice Cream</p>";s:13:"yachtMenu1Pic";s:76:"https://www.centralyachtagent.com/yachtadmin/yachtlg/yacht6692/6692menu1.jpg";s:13:"yachtMenu2Pic";s:0:"";s:13:"yachtMenu3Pic";s:0:"";s:13:"yachtMenu4Pic";s:0:"";s:13:"yachtMenu5Pic";s:0:"";s:13:"yachtMenu6Pic";s:0:"";s:13:"yachtMenu7Pic";s:0:"";s:13:"yachtMenu8Pic";s:0:"";s:13:"yachtMenu9Pic";s:0:"";s:14:"yachtMenu10Pic";s:0:"";s:9:"yachtCrew";s:1:"6";s:14:"yachtCrewSmoke";s:3:"Inq";s:13:"yachtCrewPets";s:2:"No";s:16:"yachtCrewPetType";s:0:"";s:16:"yachtCaptainName";s:15:"Darren Shepherd";s:18:"yachtCaptainNation";s:8:"American";s:16:"yachtCaptainBorn";s:1:"0";s:15:"yachtCaptainLic";s:0:"";s:18:"yachtCaptainYrSail";s:1:"0";s:19:"yachtCaptainYrChart";s:1:"0";s:16:"yachtCaptainLang";s:0:"";s:13:"yachtCrewName";s:0:"";s:14:"yachtCrewTitle";s:0:"";s:15:"yachtCrewNation";s:0:"";s:15:"yachtCrewYrBorn";s:1:"0";s:12:"yachtCrewLic";s:0:"";s:15:"yachtCrewYrSail";s:1:"0";s:16:"yachtCrewYrChart";s:1:"0";s:13:"yachtCrewLang";s:0:"";s:16:"yachtCrewProfile";s:4673:"CAPTAIN DARREN SHEPHERD<br /> Darren grew up on the south coast of England in a small seaside town where he spent his youth sailing. At the age of 18 he became a sailing instructor and went on to work for 6 years at vacation resorts teaching various watersports working his way up manager of the training school. Finding a natural progression into yachting Darren has spent the last 7 years cruising all over the Mediterranean and Caribbean onboard yachts ranging from 70ft-165ft. As a certified Dive Master Darren loves exploring the oceans both above and below the water line. Having completed many charters and extensive long passages through his career, including remote places, working with and catering to different nationalities and client preferences Darren is able to adapt quickly to any client's needs to ensure the ultimate experience is delivered by his crew, whether it be action packed watersports you are looking for or a relaxing week of cruising and fine dining. Darren will see it done! <br /> <br /> CHIEF STEWARDESS ALIX SLIWINSKI<br /> Alix is from Cornwall in the southwest of England, where she worked in high-end restaurants & hotels in exquisite beachfront locations. Since 2013 she has worked on both private & charter yachts cruising throughout the Mediterranean, Caribbean & Bahamas. During this time Alix has catered to numerous UHNWI and celebrity charter clients on 100- 230ft yachts. In 2018 Alix joined M/Y Trending a 164ft Westport as chief stew, onboard she captivated guests with her elaborate theme nights, displaying true empathy for guest experience. On Trending she met Darren Shepherd and since then they have been working side-by-side for the past 3 years bringing strong leadership and enthusiasm to their team to ensure guest satisfaction and safety is always met. In her down time Alix is passionate about diving and is skilled in Vinyasa yoga. Alix is dedicated to creating unforgettable memories and an exceptional standard of service for her guests onboard REFLECTIONS, so do not hesitate to ask!<br /> <br /> STEWARDESS SYDNEY PITVOREC<br /> Sydney is a 25 year-old from South Carolina, where she attended the University of South Carolina. After University, she joined Teach for America and spent the last three years teaching middle school English<br /> in Nashville, Tennessee. While teaching, she found happiness by the ocean, spending the summers waitressing and bartending in a small town on the Outer Banks of North Carolina, where she first heard about the yachting industry. In her free time, she enjoys traveling, photography, skiing and being on the water. Sydney is looking forward to giving guests onboard Reflections the best experience possible!<br /> <br /> MATE/ENGINEER MIGUEL DIAZ<br /> Miguel joins us from Mazatlan Sinaloa Mexico, where he started his career on the water in commercial Tuna fishing along the pacific coast in 2016. In 2019 Miguel joined offshore supply ships as second mate on vessels up to 3000gt. It did not take long for Miguel to crave a taste of luxury and join the super yachting industry cursing through panama, Columbia, Bahamas and Florida on M/Y Nana 1 and M/Y C. Miguel is very excited to join us on Reflections and return to cruising around Panama where he would like to base himself one day in the future. Outside of work Miguel is a keen surfer, long distance swimmer and fisherman. <br /> <br /> DECKHAND CARMEL MANGUILIMOTAN<br /> Carmel is originally from The Philippines, a seafaring nation, and was exposed early to life at sea. Carmel started his maritime career in commercial shipping in 2011 and made the transition to yachting in 2013. Carmel has extensive experience cruising to locations worldwide including most of Asia, the US and the Pacific coast of Mexico, the US East Coast, Canada, the Bahamas, and the Caribbean. He loves to stay active shooting hoops and doing all sorts of watersports. Carmel is looking forward to helping the REFLECTIONS team provide top level service while creating amazing experiences for all guests that come aboard! When Carmel smiles, you will too!!! <br /> <br /> CHEF AMY WIFFEN<br /> South African born but worldly raised, Amy's love of traveling led her into the galley with insatiable curiousness and immersing herself into different cultures and cuisines. She dreams of owning a farm to table restaurant on the beach in Mallorca, Spain. In her spare time, she's brewing her own IPA's, hiking, wine tasting and mushroom foraging. Amy Joined Reflections in November 2022 and is ready to get stuck into the season whipping up some culinary creations for all her guests. ";s:14:"yachtCrewPhoto";s:0:"";s:13:"yachtCrew1Pic";s:76:"https://www.centralyachtagent.com/yachtadmin/yachtlg/yacht6692/6692crew1.jpg";s:13:"yachtCrew2Pic";s:76:"https://www.centralyachtagent.com/yachtadmin/yachtlg/yacht6692/6692crew2.jpg";s:13:"yachtCrew3Pic";s:73:"https://www.centralyachtagent.com/yachtadmin/yachtimg/yacht6692/6692crew3";s:13:"yachtCrew4Pic";s:73:"https://www.centralyachtagent.com/yachtadmin/yachtimg/yacht6692/6692crew4";s:13:"yachtCrew5Pic";s:76:"https://www.centralyachtagent.com/yachtadmin/yachtlg/yacht6692/6692crew5.jpg";s:13:"yachtCrew6Pic";s:73:"https://www.centralyachtagent.com/yachtadmin/yachtimg/yacht6692/6692crew6";s:13:"yachtCrew7Pic";s:0:"";s:13:"yachtCrew8Pic";s:0:"";s:13:"yachtCrew9Pic";s:0:"";s:14:"yachtCrew10Pic";s:0:"";s:14:"yachtCrew1Name";s:15:"Darren Shepherd";s:14:"yachtCrew2Name";s:14:"Alix Sliwinski";s:14:"yachtCrew3Name";s:15:"Sydney Pitvorec";s:14:"yachtCrew4Name";s:11:"Miguel Diaz";s:14:"yachtCrew5Name";s:20:"Carmel Manguilimotan";s:14:"yachtCrew6Name";s:10:"Amy Wiffen";s:14:"yachtCrew7Name";s:0:"";s:14:"yachtCrew8Name";s:0:"";s:14:"yachtCrew9Name";s:0:"";s:15:"yachtCrew10Name";s:0:"";s:15:"yachtCrew1Title";s:7:"Captain";s:15:"yachtCrew2Title";s:16:"Chief Stewardess";s:15:"yachtCrew3Title";s:10:"Stewardess";s:15:"yachtCrew4Title";s:13:"Mate/Engineer";s:15:"yachtCrew5Title";s:8:"Deckhand";s:15:"yachtCrew6Title";s:4:"Chef";s:15:"yachtCrew7Title";s:0:"";s:15:"yachtCrew8Title";s:0:"";s:15:"yachtCrew9Title";s:0:"";s:16:"yachtCrew10Title";s:0:"";s:9:"yachtFlag";s:7:"JAMAICA";s:13:"yachtHomePort";s:11:"New England";s:14:"yachtWBasePort";s:15:"Florida/Bahamas";s:8:"yachtRig";s:0:"";s:14:"yachtGrossTons";s:0:"";s:12:"yachtAcNight";s:3:"Yes";s:16:"yachtAcSurCharge";s:0:"";s:9:"yachtTubs";s:1:"1";s:20:"yachtLocationDetails";s:153:"December 2022 and January 2023 - Belize February thru May - Bahamas June thru mid-August - Owner Use August - Maine, New England or Southbound Charter";s:10:"yachtTerms";s:5:"+ ALL";s:13:"yachtCaptOnly";s:0:"";s:15:"yachtSpecialCon";s:0:"";s:14:"yachtContracts";s:0:"";s:21:"yachtConsumptionUnits";s:10:"US Gall/Hr";s:10:"yachtRange";s:12:"1800 nm@12kn";s:11:"yachtPermit";s:1:"0";s:12:"yachtLicense";s:1:"0";s:8:"yachtMca";s:1:"0";s:16:"yachtDeepSeaFish";s:3:"Yes";s:10:"yachtSatTv";s:3:"Yes";s:9:"yachtIpod";s:3:"Yes";s:10:"yachtVideo";s:0:"";s:17:"yachtSailInstruct";s:0:"";s:13:"yachtInternet";s:12:"Onboard WIFI";s:16:"yachtCaptainOnly";s:0:"";s:16:"yachtBrokerNotes";s:263:"New to the fleet but a long time experienced charter yacht owner. <br /> <br /> Over $1M spent in late 2021 refit. Interior, exterior and mechanical. New Photos coming soon! <br /> <br /> *NEXUS Member - able to obtain Albany Marina dockage in Nassau, Bahamas";s:15:"yachtInsCompany";s:0:"";s:11:"yachtPolicy";s:0:"";s:14:"yachtLiability";s:0:"";s:18:"yachtEffectiveDate";s:0:"";s:17:"yachtContractName";s:0:"";s:18:"yachtCoverageAreas";s:0:"";s:12:"yachtInsFlag";s:0:"";s:16:"yachtInsHomeport";s:0:"";s:11:"yachtRegNum";s:0:"";s:14:"yachtConPhone1";s:0:"";s:14:"yachtConPhone2";s:0:"";s:14:"yachtConPhone3";s:0:"";s:11:"yachtConFax";s:0:"";s:17:"yachtWaveConEmail";s:0:"";s:13:"yachtConOther";s:0:"";s:12:"yachtManager";s:14:"Robert J. Cury";s:16:"yachtManagerName";s:16:"Nicole Caulfield";s:17:"yachtManagerPhone";s:12:"954-525-3886";s:16:"yachtManagerToll";s:14:"(954) 494-8978";s:17:"yachtManagerEmail";s:22:"charters@rjcyachts.com";}
December 2022 and January 2023 - Belize February thru May - Bahamas June thru mid-August - Owner Use August - Maine, New England or Southbound Charter
No
37.00 m
80
US Gall/Hr
1800 nm@12kn
Christmas/ New Years - 10 night minimum OR for one week over either holiday please add 15% ** EFFECTIVE JULY 1, 2022 - 10% VAT will need to be quoted for all Bahamas charters in addition to the 4% Charter Tax **
Plus Expenses
0
charters@rjcyachts.com
Robert J. Cury
http://www.cyabrochure.com/ebn/2395/pdhaX/6692/4
Inq
a:3:{s:16:"green_initiative";s:3:"Yes";s:16:"reusable_bottles";s:3:"Yes";s:19:"other_green_efforts";s:0:"";}
a:15:{s:5:"tanks";s:1:"0";s:9:"wet_suits";s:1:"0";s:15:"number_of_dives";s:0:"";s:11:"night_dives";s:1:"0";s:9:"dive_info";s:0:"";s:13:"communication";s:170:"WiFi with Cellular and Satellite data provided by KYMETA. (Data Usage billed on APA)<br /> VOIP services available via KYMETA at nominal charge<br /> Iridian Sat Phone";s:11:"full_course";s:0:"";s:14:"air_compressor";s:11:"Not Onboard";s:3:"bcs";s:1:"0";s:11:"weight_sets";s:1:"0";s:16:"number_of_divers";s:1:"0";s:20:"registrations_number";s:1:"0";s:11:"dive_lights";s:1:"0";s:10:"dive_costs";s:0:"";s:14:"scuba_on_board";s:35:"Yacht offers Rendezvous Diving only";}
a:4:{s:12:"fishing_gear";s:3:"Yes";s:17:"fishing_gear_type";s:0:"";s:4:"rods";s:0:"";s:16:"deep_sea_fishing";s:3:"Yes";}
JAMAICA
American
1
Yacht offers Rendezvous Diving only
1677046495
a:2:{s:7:"updated";i:1676591279;s:5:"links";a:0:{}}
<div class="col-md-6 col-lg-6 col-xl-4 listing_wrapper property_unit_0_child mo_slideritem" data-listid="35282" data-price="87500"> <div class="property_listing"> <div class="mo_badges"> <div class="reviews_small"> Jacuzzi </div> </div> <i class="mo_singlespinner fa fa-spinner fa-spin" aria-hidden="true"></i> <div class="single_yacht_slider royalSlider rsUni rsHor rsWithBullets"> <a class="rsImg v1" href="https://i0.wp.com/www.centralyachtagent.com/yachtadmin/yachtlg/yacht6692/6692brochure1.jpg?resize=800%2C538&ssl=1"></a> <a class="rsImg v4" href="https://i0.wp.com/www.centralyachtagent.com/yachtadmin/yachtlg/yacht6692/6692brochure2.jpg?ssl=1&w=800px"></a> <a class="rsImg v4" href="https://i0.wp.com/www.centralyachtagent.com/yachtadmin/yachtlg/yacht6692/6692brochure3.jpg?ssl=1&w=800px"></a> <a class="rsImg v4" href="https://i0.wp.com/www.centralyachtagent.com/yachtadmin/yachtlg/yacht6692/6692brochure4.jpg?ssl=1&w=800px"></a> <a class="rsImg v4" href="https://i0.wp.com/www.centralyachtagent.com/yachtadmin/yachtlg/yacht6692/6692brochure5.jpg?ssl=1&w=800px"></a> <a class="rsImg v4" href="https://i0.wp.com/www.centralyachtagent.com/yachtadmin/yachtlg/yacht6692/6692brochure6.jpg?ssl=1&w=800px"></a> <a class="rsImg v4" href="https://i0.wp.com/www.centralyachtagent.com/yachtadmin/yachtlg/yacht6692/6692brochure7.jpg?ssl=1&w=800px"></a> <a class="rsImg v4" href="https://i0.wp.com/www.centralyachtagent.com/yachtadmin/yachtlg/yacht6692/6692brochure8.jpg?ssl=1&w=800px"></a> <a class="rsImg v4" href="https://i0.wp.com/www.centralyachtagent.com/yachtadmin/yachtlg/yacht6692/6692brochure9.jpg?ssl=1&w=800px"></a> <a class="rsImg v4" href="https://i0.wp.com/www.centralyachtagent.com/yachtadmin/yachtlg/yacht6692/6692brochure10.jpg?ssl=1&w=800px"></a> <a class="rsImg v4" href="https://i0.wp.com/www.centralyachtagent.com/yachtadmin/yachtlg/yacht6692/6692brochure11.jpg?ssl=1&w=800px"></a> <a class="rsImg v4" href="https://i0.wp.com/www.centralyachtagent.com/yachtadmin/yachtlg/yacht6692/6692brochure12.jpg?ssl=1&w=800px"></a> <a class="rsImg v4" href="https://i0.wp.com/www.centralyachtagent.com/yachtadmin/yachtlg/yacht6692/6692brochure13.jpg?ssl=1&w=800px"></a> <a class="rsImg v4" href="https://i0.wp.com/www.centralyachtagent.com/yachtadmin/yachtlg/yacht6692/6692brochure14.jpg?ssl=1&w=800px"></a> <a class="rsImg v4" href="https://i0.wp.com/www.centralyachtagent.com/yachtadmin/yachtlg/yacht6692/6692brochure15.jpg?ssl=1&w=800px"></a> <a class="rsImg v4" href="https://i0.wp.com/www.centralyachtagent.com/yachtadmin/yachtlg/yacht6692/6692brochure16.jpg?ssl=1&w=800px"></a> <a class="rsImg v4" href="https://i0.wp.com/www.centralyachtagent.com/yachtadmin/yachtlg/yacht6692/6692brochure17.jpg?ssl=1&w=800px"></a> <a class="rsImg v4" href="https://i0.wp.com/www.centralyachtagent.com/yachtadmin/yachtlg/yacht6692/6692brochure18.jpg?ssl=1&w=800px"></a> <a class="rsImg v4" href="https://i0.wp.com/www.centralyachtagent.com/yachtadmin/yachtlg/yacht6692/6692brochure19.jpg?ssl=1&w=800px"></a> </div > <div class=""> <div class="row"> <div class="col-md-12"> <h3 class="single_yacht_title mt-2 overflow-hidden">REFLECTIONS</h3> </div> <div class="col-md-12"> <div class="col-md-12 single_yacht_price mo_green"> From $87,500/week </div> <div class="row fourths"> <!-- <div class="col-md-4"> </div>--> <div class="col-md-4 col-sm-6 overflow-hidden descline"> 5 cabins </div> <div class="col-md-4 col-sm-6 overflow-hidden descline"> 124 ft </div> <div class="col-md-4 col-sm-6 overflow-hidden descline"> Christensen </div> <div class="col-md-4 col-sm-6 overflow-hidden descline"> 10 guests </div> <div class="col-md-4 col-sm-6 overflow-hidden descline"> Refit: 2021 </div> <div class="col-md-4 col-sm-6 overflow-hidden descline"> 80 US Gall/Hr </div> </div> </div> </div> <div class="col-md-12"> <p class="text-center conversion_buttons mt-3"> <a href="https://dmayachting.com/charter-yacht/reflections-124-ft-christensen/" target="_blank" class="btn btn-blue mo_moinfo ">View</a> <button class="btn trigger_yachtmodal mgc_vertical_gradient" data-bs-toggle="modal" data-bs-target="#yacht_modal" data-toggle = "modal" data-img = "https://i0.wp.com/www.centralyachtagent.com/yachtadmin/yachtlg/yacht6692/6692brochure1.jpg?ssl=1" data-title = "REFLECTIONS" data-link = "https://dmayachting.com/charter-yacht/reflections-124-ft-christensen/" data-price = "87500">Inquire</button></p> </div> </div> </div> </div>