SEAREX Yacht Charter
Yacht Description
SEAREX yacht is a 124.00 ft long motor yacht monohull and spends the summer season in Indian Ocean and SE Asia and winter season in Indian Ocean and SE Asia. It was built by . in 2018. The yacht layout features 8 cabins and accommodates 16 guests. The cabin arrangement is following: 2 king cabins, 6 double cabins.
The motor yacht features 1 engine Diesel Mitsubishi 600Hp 2 Generators Kohler / Soundproof engines .
Accommodation
2 Master Suits on first deck + 6 Convirtable Double/Twin Cabins lower deck
SEAREX Yacht Details
65,000 - 85,000
Weekly price low-high season
132 Litres/Hr
Consumption
Price Terms
All Inclusive
Price Details
1 May – 1 Sept  LS: 65,000 USD/ week + 12% GST + 5% APA *ALL-INCLUSIVE
1 Sept – 1 May  HS: 75,000 USD / week + 12% GST + 5% APA *ALL-INCLUSIVE
X-Mas, NY and Easter: 85,000 USD /week + 12% GST + 5% APA *ALL-INCLUSIVE

Daily charters are possible on request and at the rate of 12,000 USD/day + 12% GST + 5% APA

*INCLUSIVE IN CHARTER
a) All Accommodation on the vessel
b) Full board Meal Plan: Breakfast ,Lunch and Dinner
c) Laundry and Pressing Services
d) Selective Wines during meal times
e) Selective alcoholic drinks and cocktails
f) Fresh juices & smoothies only during breakfast
g) The services and the use of the facilities
h) Green tax of 6 USD per person per night
i) Unlimited Dive as per schedule
j) Services of a qualified, experience English speaking PADI Dive Instructor
l) Unlimited non-alcoholic beverages
l) Visits to local islands
m) Visits to Desert Islands
n) Barbeque on Desert Island
o) Snorkelling & Fishing Trips
p) Photo Session on request
q) Unlimited water sports ( jet ski , wake board , Water ski, SUP, … )

NON-INCLUSIVE CHARGEABLE SERVICES
a) International Telephone calls
b) Fine wines & Champagnes
c) Other alcoholic brands
d) Nitrox Dive
e) Any Spa/massage treatments on request (320 USD/day for masseuse)*
f) Yoga Teacher on request (145 USD/day for Yoga teacher)*
g) Surf Guide on request (125 USD/day for Surf Guide)*
h) PADI Dive courses on request (550 USD per Open Water course Per Person)
*please note the prices above are for a service during the whole charter period. The charge for a masseuse is excluding her travel costs.
The masseuse/yoga teacher/Surf Guide will sleep on board in the crew service cabins at no extra charge.
i) Crew Gratuity (PLEASE NOTE THAT A 10% SERVICE CHARGE IS OBLIGED BY THE MALDIVIAN GOVERNMENT SINCE JANUARY 2021! PLEASE INFORM YOUR CLIENTS)
--> APA: 5% of charter fee to cover for the non-exclusive expenses
--> Service Charge of 10% can be paid via Credit Card on board before disembarkation or via Bank Transfer as we need this amount on the bank account as proof for the Local Revenue Authorities

COMPLIMENTARIES
All passengers to SEAREX charter cruise are entitled for the following services on complimentary basis;
a) Meeting & Greeting services at the Airport
b) Transfers from Airport to SEAREX and return from Start and End of the Trip.
c) Unlimited bottle of water per cabin will be provided daily
d) On Arrival Fruit Basket
e) Local fishing gear
f) Snorkelling gear
g) Honeymoon and Birthday specials (Romantic room setup, cake and champagne)
h) Wifi

Specifications
Pref Pickup:
Male, Maldives
Features
BBQ: Yes
AC: Full
Internet: Onboard WIFI
Cruising Speed: 10
Max Speed: 12
More Specifications
Diving
Dive Info:
A sperate 19.8m Dive Dhoni (MiniMe) will be available durin g every charter (if diving is requested) with 20 pax Dive Sets.
Communication:
Large LCD TV, DVD player, game station and the latest in Bose surround sound system. There is also iPod connectivity allowing you to listen to your own music collection
Dive Costs:
PADI Dive courses (550 USD per Open Water course Per Person)
Green Initiatives
Other Green Efforts:
SEAREX is not just the most luxurious yacht in Madlives, but also the most environmentally friendly. Extensive technological solutions have been used in order to achieve this including using specialist catalysts designed to cut down emissions by a massive 98% while reducing fuel consumption. A special marine sewage treatment system will produce treated water to be sent overboard.
Other Entertainment
including your own private whirlpool on flybridge, private office space and a private entertainment center with a large LCD TV, DVD player, game station and the latest in Bose surround sound system. There is also iPod connectivity allowing you to listen to your own music collection
Crew
Captain: Captain Ibrahim Assad
Cruise Director: Hussain Sharif (Chaali)
With Over 15 years of experience in the Maldives tourism industry, our Cruise Director is well
known in the Maldives Yacht Industry. Born and raised in the Maldives. He is a Padi Dive Master
and Instructor with Medic First Aid training instructor rating. Having worked in the Maldives
most luxurious resorts as Scuba Diving Instructor in many different locations of the Maldives. He
has great knowledge of the areas of interest, which would lead you to your dreams becoming
true. Since 2005 He is actively involved in Maldives Yacht industry as Cruise Director for
different Yachts.

SeaRex Captain: Captain Ibrahim Assad
Born in Addu Atoll, the very south of Maldives famous for its unique features. Since 16 years old
his passion was sailing in the Maldivian waters with family members. At the age of 18 he got his
first boat license and in just a few years he became an Internationally certified Captain. Worked
on Sea Explorer as a First Officer for over 10 years. Been with SeaRex management for the past 2
years in completing and launching the vessel. He is trained in First Aid and Advance Fire Fighter.
Coastal Navigation Class 5 & Maritime Operations Class 4.

Head Chef: Shan Dickson
Born and raised in Sri Lanka introduced him to a very rich culture with lots of interesting food
around him. He became interested in cooking when he was only 12 years old, since then he has
started mastering his skills. He has gone through extensive training of 3 years in Hotel School.
Having worked in major 5 star hotels in Sri Lanka gave him the opportunity to work in Dubai.
From the very First trip of SeaRex he is our pride when it comes to tasty meals.

Assitant Chef: Mojib Khan
Coming from our neighboring country Bangladesh. Mojib has been preparing all meals for crew
since launching of the vessel in water. A man of few words has always put his silence into making
interesting meals and helping out our chef. He has been working as an assistant Chef in Yacht
industry in the Maldives for over 4 years.

Engineer: Mohamed Rameez
Being a professional carpenter he has been taking care of vessels and trouble shooting them for
over 10 years. His quick thinking has always been his most likeable feature. He has been with
SeaRex at the last stages of the construction of the vessel, which has made him a blueprint of the
vessel by heart.

Room Attendant: Mohamed Shiham
Shiham is from North of Maldives. Worked at few resort of the Maldives for over 2 years as a
room attendant. Having always a passion for sailing has brought him to our team to follow his
dreams while doing his usual job.

Deckhand (Dhoni): Ahmed Naashiu
Born in Maldives and coming from the very northern atolls of the Maldives and
working with us as fresh deckhand crew. He has joined our team as a trainee to pursue his dream
to become a captain.

Bartender: M. Sanjaya
Born and raised in Srilanka, Sanjay is a professional and personable barman with 7 years of
experience at both high-end land based establishments and various cruise lines. Cruise Ship
bartender able to serve guests in a way that makes them feel catered to without intruding on
their cruise experience in any personal way.

Dive Boat (Dhoni): Captain Yoosuf Hussain
A true Maldivian, Yoosuf has always been a Dive Dhoni captain all his life. He started working
when he was 21 years old as a crew and made his way up to a captain. He has been working as a
Dive Boat captain for over 18 years now. With his years of experience divers and snorkelers will
find it fun, same time safe to be on his boat.

Crew (Dhoni) / Compressor Attendant: Mohinuhdheen
Born and raised in Bangladesh. He has been our trained tender boat caretaker and the one who is
responsible to give all divers the most healthy clean air for breathing underwater.
Reviews:
Charter 23-30 Augustus 2018
Wow , What a spectacular holiday! The boat is stunning and Charlie and his fabulous crew thought of every detail. We were totally spoilt by all the staff and our kids had so much fun with all the toys! We all hope to have the opportunity to come back and holiday with you again one day !

Thank you for everything !
Tandem Charter AZALEA & SEAREX 26/10/18-04/11/18
BEST HOLIDAY EVER!!!!!!!!

We just had a tandem charter on both SEAREX and AZALEA at it really was beyond our expectations! We were 34 people in total: 20 children and 14 adults and the crew had a perfect control over everything. We never had such a perfect holiday where both children and parents had such a nice and relaxing time. the Children had so much entertainment like the Big Slide,the Jacuzzi, the big sea pool, Xbox or Nitendo, karaoke, ... The crew even teached every one of them how to waterski or jetski and took them on a local football tournement. Nothing was too much to ask and all went perfect. There were so many highlights on this trip, I can not even describe all of them. What we will remember most is: Swimming with the whalesharks, Snorkelling with Manta Rays and Turtles, Fly Fishing, Night Dive between lots of sharks around us,...

We already chartered a lot of big yachts but for us this was the best trip ever! THANK YOU AZALEA AND SEAREX FOR HAVING US. WE WILL BE BACK!!!!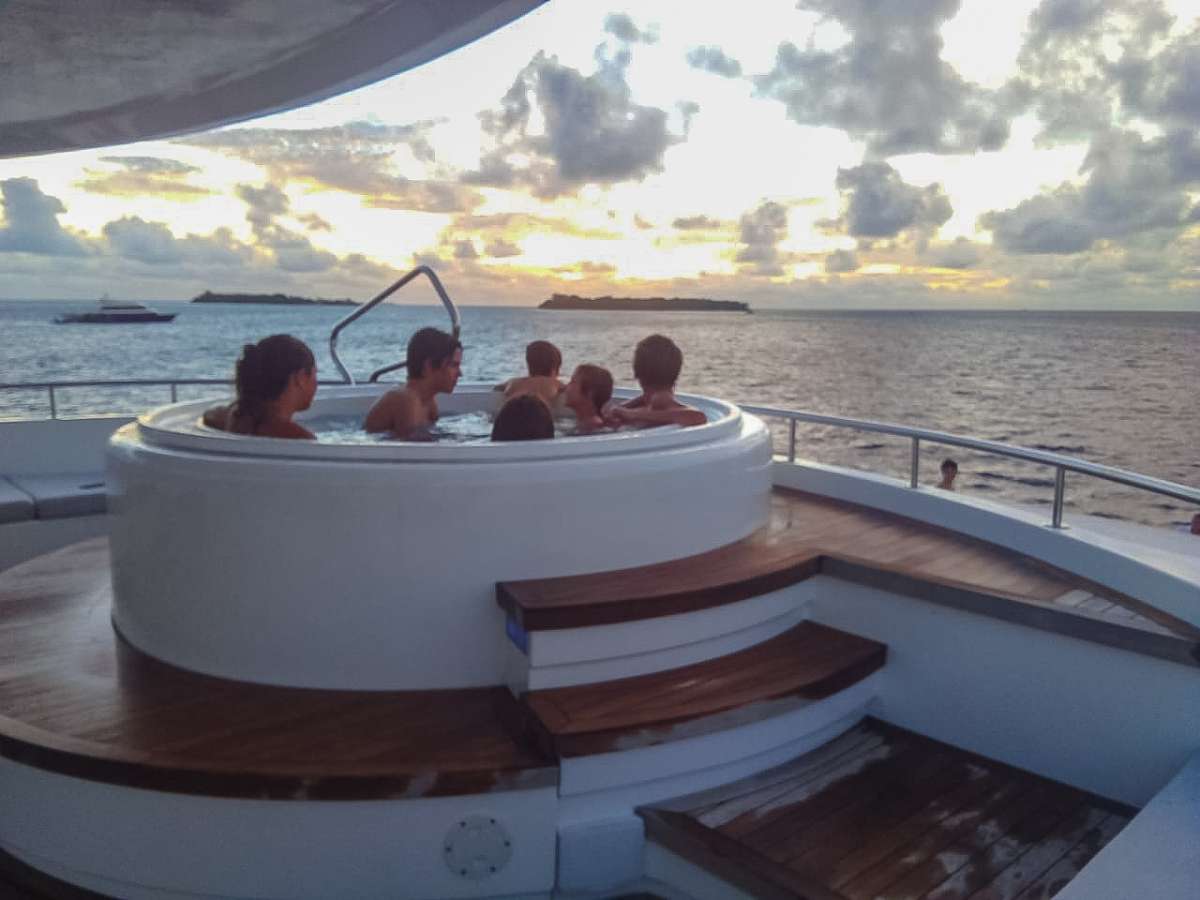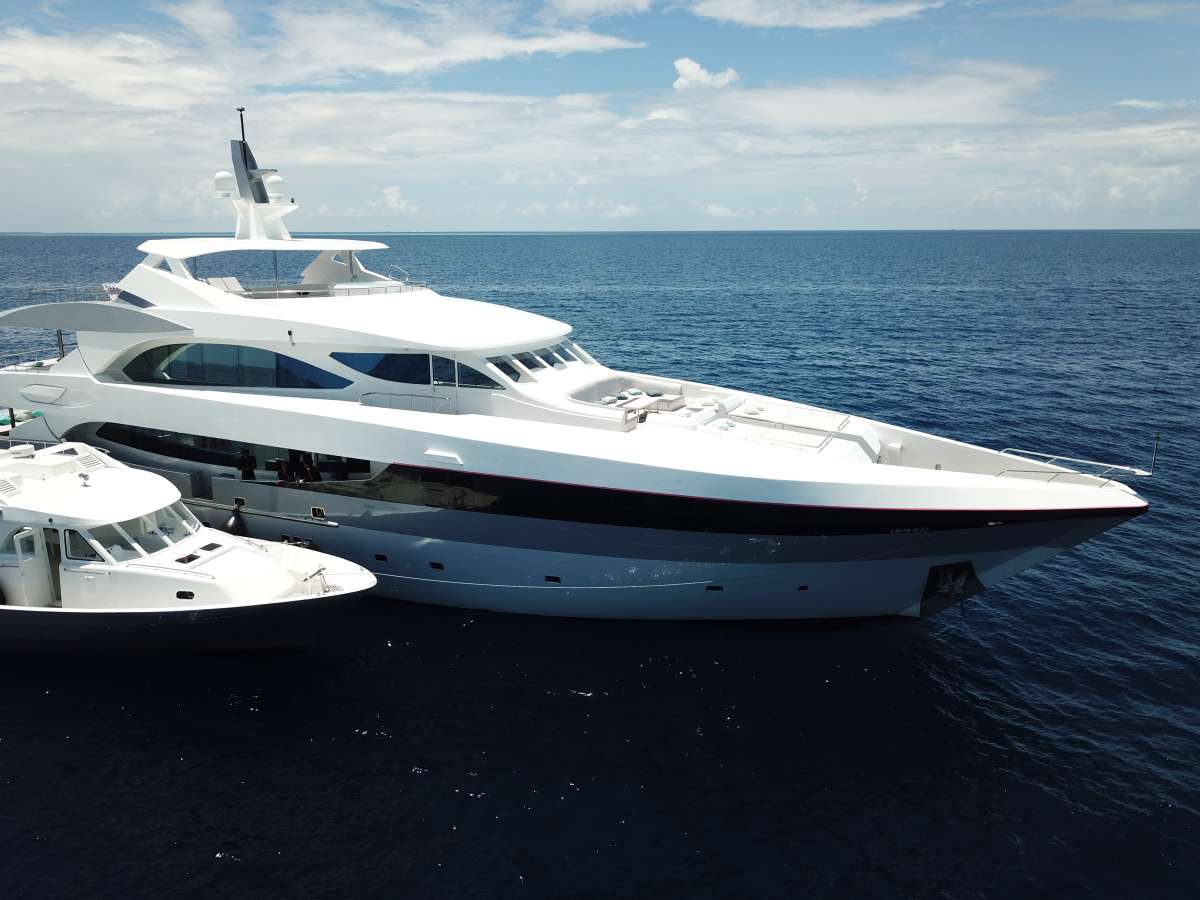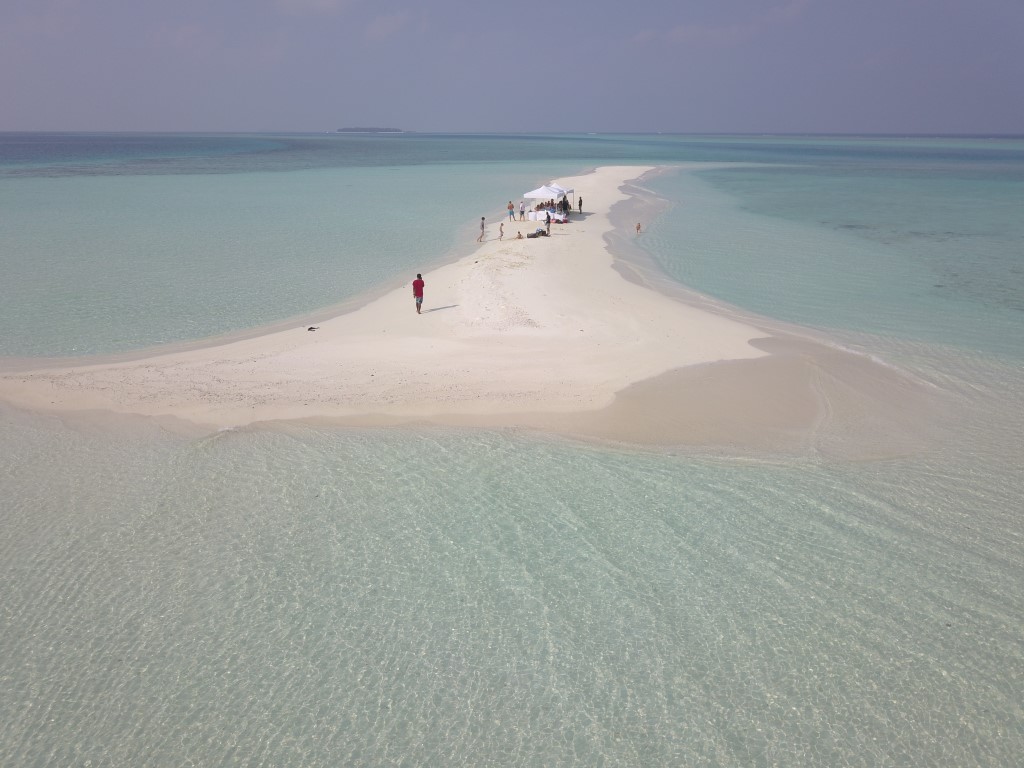 Guests comments : Christmas Charter 2018

« Super thanks. Was perfect. Excellent boat, all toys, perfect diving, super motivated and friendly crew, nothing was too much to ask. Was 100 percent successful, thank you very much! We look after going back next year, depends on two sons. Big kiss and best wishes M. »
Guest comments : Charter 06-13 Jan 2019
Thank you very much for such an amazing journey. Your crew made everything for us to be happy and satisfied all this week. Hope to see you all again one day!

Amazing time time on board thanks !
Charter January 2019
Please find here below a feedback from the client's PA (it's in french but I did not want to translate it as it would just not feel right) :
Might seem a bit premature but I wanted to let you know as I thought it was so lovely I got sent this and wanted to pass it on to you and Chaali.

Il est ravi : bateau, équipage, nourriture. De plus, la plongée est topissime, avec des moniteurs extras et un équipement au top aussi. Au point que deux des dames qui avaient dit ne pas en faire s'y sont mis. Au total 5 confirmés et 5 débutants. Et en plus du professionnalisme général, tout le monde est d'une grande gentillesse.
La soirée de Caroline fut waouw : plage magnifique, un chanteur extra, et « une sono dingue - il ne sait pas comment ils ont fait » ! Il y avait un ambiance démentielle.

So as you can see, they have had the time of their life. Clearly, everything happened seamlessly, the crew is not only extremely nice but also very professional. They loved the diving, which was clearly the highlight of their trip, right next to the very special birthday BBQ the crew of Searex prepared. I would like to thank you and Chaali + his crew for making sure my client had the best time on board Searex. I would not hesitate to recommend her to other clients / brokers.

Guests comments : January 2019 charter
Guest comments : Charter January 2019 :

Unforgettable holiday with an amazing staff ! Always smiling and so caring to all our needs and wishes !
A week of paradise .
Feedback charter 23 - 30 March Maldives SEAREX
My client reported to me that they had a fantastic time, and I attribute this to the fact that they REALLY love to dive and enjoy water sports, and they appreciated the very good service on board. They said the yacht was very clean and the cabins comfortable, but it was very simple and plain (which you can see from the photos). They said the two master cabins were rather small to be called Masters. They said the service is very good, they said Chaali, the on board coordinator is the best, and that his only desire is to serve and please the guests. I found him amazing to work with during the planning process and eager to find a way to accommodate our requests. My client paid extra to have them bring in a Thai masseuse for their charter. They said she was amazing!

They said the diving was fabulous, and that the dive instructor on board was probably the best they ever had, and they dive all over the world.

Thanks!,

Gallery
5548
http://www.centralyachtagent.com/snapins/ebrochure-xml.php?idin=5548&uid=2294&user=2294
8
Power
N
https://www.centralyachtagent.com/yachtadmin/yachtimg/yacht5548/5548brochure88.jpg
16
Indian Ocean and SE Asia
Indian Ocean and SE Asia
124.00
9.5
2.5

19.8m Dive Dhoni (MiniMe) with John Deere 175 HP with 20 pax Dive Sets
Tender Offshore 20 with Yamaha 100 hp

Toys:
Jetski
Windsurfing
Wakeboarding
Water Skiing
Banana Tow x 4 pax , Fun Tube, Double Trouble by Jobe
Kayak
Tenders:
a:34:{s:12:"salon_stereo";s:3:"Yes";s:8:"salon_tv";s:3:"Yes";s:6:"sat_tv";s:1:"0";s:17:"multimedia_system";s:3:"Yes";s:4:"nude";s:3:"Inq";s:5:"books";s:0:"";s:9:"crew_pets";s:2:"No";s:8:"pet_type";s:0:"";s:10:"guest_pets";s:1:"0";s:9:"camcorder";s:1:"0";s:14:"number_dine_in";s:0:"";s:11:"water_maker";s:0:"";s:14:"water_capacity";s:0:"";s:9:"ice_maker";s:3:"Yes";s:14:"number_of_dvds";s:3:"yes";s:13:"number_of_cds";s:0:"";s:11:"board_games";s:1:"0";s:10:"sun_awning";s:1:"0";s:6:"bimini";s:1:"0";s:13:"special_diets";s:3:"Inq";s:6:"kosher";s:3:"Inq";s:3:"bbq";s:3:"Yes";s:12:"gay_charters";s:3:"Inq";s:10:"hairdryers";s:1:"0";s:22:"number_of_port_hatches";s:0:"";s:7:"smoking";s:0:"";s:11:"crew_smokes";s:3:"Inq";s:11:"children_ok";s:1:"0";s:17:"minimum_child_age";s:0:"";s:9:"generator";s:0:"";s:8:"inverter";s:0:"";s:8:"voltages";s:0:"";s:7:"hammock";s:0:"";s:10:"windscoops";s:0:"";}
Full
Yes
Onboard WIFI
1 engine Diesel Mitsubishi 600Hp 2 Generators Kohler / Soundproof
2018
.
2 Master Suits on first deck + 6 Convirtable Double/Twin Cabins lower deck
USD
65000
65000
$85,000
1 May – 1 Sept  LS: 65,000 USD/ week + 12% GST + 5% APA *ALL-INCLUSIVE 1 Sept – 1 May  HS: 75,000 USD / week + 12% GST + 5% APA *ALL-INCLUSIVE X-Mas, NY and Easter: 85,000 USD /week + 12% GST + 5% APA *ALL-INCLUSIVE Daily charters are possible on request and at the rate of 12,000 USD/day + 12% GST + 5% APA *INCLUSIVE IN CHARTER a) All Accommodation on the vessel b) Full board Meal Plan: Breakfast ,Lunch and Dinner c) Laundry and Pressing Services d) Selective Wines during meal times e) Selective alcoholic drinks and cocktails f) Fresh juices & smoothies only during breakfast g) The services and the use of the facilities h) Green tax of 6 USD per person per night i) Unlimited Dive as per schedule j) Services of a qualified, experience English speaking PADI Dive Instructor l) Unlimited non-alcoholic beverages l) Visits to local islands m) Visits to Desert Islands n) Barbeque on Desert Island o) Snorkelling & Fishing Trips p) Photo Session on request q) Unlimited water sports ( jet ski , wake board , Water ski, SUP, … ) NON-INCLUSIVE CHARGEABLE SERVICES a) International Telephone calls b) Fine wines & Champagnes c) Other alcoholic brands d) Nitrox Dive e) Any Spa/massage treatments on request (320 USD/day for masseuse)* f) Yoga Teacher on request (145 USD/day for Yoga teacher)* g) Surf Guide on request (125 USD/day for Surf Guide)* h) PADI Dive courses on request (550 USD per Open Water course Per Person) *please note the prices above are for a service during the whole charter period. The charge for a masseuse is excluding her travel costs. The masseuse/yoga teacher/Surf Guide will sleep on board in the crew service cabins at no extra charge. i) Crew Gratuity (PLEASE NOTE THAT A 10% SERVICE CHARGE IS OBLIGED BY THE MALDIVIAN GOVERNMENT SINCE JANUARY 2021! PLEASE INFORM YOUR CLIENTS) --> APA: 5% of charter fee to cover for the non-exclusive expenses --> Service Charge of 10% can be paid via Credit Card on board before disembarkation or via Bank Transfer as we need this amount on the bank account as proof for the Local Revenue Authorities COMPLIMENTARIES All passengers to SEAREX charter cruise are entitled for the following services on complimentary basis; a) Meeting & Greeting services at the Airport b) Transfers from Airport to SEAREX and return from Start and End of the Trip. c) Unlimited bottle of water per cabin will be provided daily d) On Arrival Fruit Basket e) Local fishing gear f) Snorkelling gear g) Honeymoon and Birthday specials (Romantic room setup, cake and champagne) h) Wifi

With Over 15 years of experience in the Maldives tourism industry, our Cruise Director is well
known in the Maldives Yacht Industry. Born and raised in the Maldives. He is a Padi Dive Master
and Instructor with Medic First Aid training instructor rating. Having worked in the Maldives
most luxurious resorts as Scuba Diving Instructor in many different locations of the Maldives. He
has great knowledge of the areas of interest, which would lead you to your dreams becoming
true. Since 2005 He is actively involved in Maldives Yacht industry as Cruise Director for
different Yachts.

SeaRex Captain: Captain Ibrahim Assad
Born in Addu Atoll, the very south of Maldives famous for its unique features. Since 16 years old
his passion was sailing in the Maldivian waters with family members. At the age of 18 he got his
first boat license and in just a few years he became an Internationally certified Captain. Worked
on Sea Explorer as a First Officer for over 10 years. Been with SeaRex management for the past 2
years in completing and launching the vessel. He is trained in First Aid and Advance Fire Fighter.
Coastal Navigation Class 5 & Maritime Operations Class 4.

Head Chef: Shan Dickson
Born and raised in Sri Lanka introduced him to a very rich culture with lots of interesting food
around him. He became interested in cooking when he was only 12 years old, since then he has
started mastering his skills. He has gone through extensive training of 3 years in Hotel School.
Having worked in major 5 star hotels in Sri Lanka gave him the opportunity to work in Dubai.
From the very First trip of SeaRex he is our pride when it comes to tasty meals.

Assitant Chef: Mojib Khan
Coming from our neighboring country Bangladesh. Mojib has been preparing all meals for crew
since launching of the vessel in water. A man of few words has always put his silence into making
interesting meals and helping out our chef. He has been working as an assistant Chef in Yacht
industry in the Maldives for over 4 years.

Engineer: Mohamed Rameez
Being a professional carpenter he has been taking care of vessels and trouble shooting them for
over 10 years. His quick thinking has always been his most likeable feature. He has been with
SeaRex at the last stages of the construction of the vessel, which has made him a blueprint of the
vessel by heart.

Room Attendant: Mohamed Shiham
Shiham is from North of Maldives. Worked at few resort of the Maldives for over 2 years as a
room attendant. Having always a passion for sailing has brought him to our team to follow his
dreams while doing his usual job.

Deckhand (Dhoni): Ahmed Naashiu
Born in Maldives and coming from the very northern atolls of the Maldives and
working with us as fresh deckhand crew. He has joined our team as a trainee to pursue his dream
to become a captain.

Bartender: M. Sanjaya
Born and raised in Srilanka, Sanjay is a professional and personable barman with 7 years of
experience at both high-end land based establishments and various cruise lines. Cruise Ship
bartender able to serve guests in a way that makes them feel catered to without intruding on
their cruise experience in any personal way.

Dive Boat (Dhoni): Captain Yoosuf Hussain
A true Maldivian, Yoosuf has always been a Dive Dhoni captain all his life. He started working
when he was 21 years old as a crew and made his way up to a captain. He has been working as a
Dive Boat captain for over 18 years now. With his years of experience divers and snorkelers will
find it fun, same time safe to be on his boat.

Crew (Dhoni) / Compressor Attendant: Mohinuhdheen
Born and raised in Bangladesh. He has been our trained tender boat caretaker and the one who is
responsible to give all divers the most healthy clean air for breathing underwater.";s:5:"photo";s:82:"https://www.centralyachtagent.com/yachtadmin/yachtimg/yacht5548/5548brochure44.jpg";s:4:"size";s:2:"14";s:12:"captain_name";s:21:"Captain Ibrahim Assad";s:14:"captain_nation";s:8:"Maldives";s:12:"captain_born";s:1:"0";s:15:"captain_license";s:0:"";s:18:"captain_yr_sailing";s:1:"0";s:21:"captain_yr_chartering";s:1:"0";s:17:"captain_languages";s:7:"English";s:9:"crew_name";s:0:"";s:16:"crew_nationality";s:0:"";s:12:"crew_license";s:0:"";s:15:"crew_yr_sailing";s:1:"0";s:18:"crew_yr_chartering";s:1:"0";}
a:15:{s:4:"info";s:4178:"Cruise Director: Hussain Sharif (Chaali)
https://www.centralyachtagent.com/yachtadmin/yachtlg/yacht5548/5548brochure1.jpg
a:18:{i:2;a:2:{s:3:"url";s:80:"https://www.centralyachtagent.com/yachtadmin/yachtlg/yacht5548/5548brochure2.jpg";s:4:"desc";s:0:"";}i:3;a:2:{s:3:"url";s:80:"https://www.centralyachtagent.com/yachtadmin/yachtlg/yacht5548/5548brochure3.jpg";s:4:"desc";s:0:"";}i:4;a:2:{s:3:"url";s:80:"https://www.centralyachtagent.com/yachtadmin/yachtlg/yacht5548/5548brochure4.jpg";s:4:"desc";s:0:"";}i:5;a:2:{s:3:"url";s:80:"https://www.centralyachtagent.com/yachtadmin/yachtlg/yacht5548/5548brochure5.jpg";s:4:"desc";s:0:"";}i:6;a:2:{s:3:"url";s:80:"https://www.centralyachtagent.com/yachtadmin/yachtlg/yacht5548/5548brochure6.jpg";s:4:"desc";s:0:"";}i:7;a:2:{s:3:"url";s:80:"https://www.centralyachtagent.com/yachtadmin/yachtlg/yacht5548/5548brochure7.jpg";s:4:"desc";s:0:"";}i:8;a:2:{s:3:"url";s:80:"https://www.centralyachtagent.com/yachtadmin/yachtlg/yacht5548/5548brochure8.jpg";s:4:"desc";s:0:"";}i:9;a:2:{s:3:"url";s:80:"https://www.centralyachtagent.com/yachtadmin/yachtlg/yacht5548/5548brochure9.jpg";s:4:"desc";s:0:"";}i:10;a:2:{s:3:"url";s:81:"https://www.centralyachtagent.com/yachtadmin/yachtlg/yacht5548/5548brochure10.jpg";s:4:"desc";s:0:"";}i:11;a:2:{s:3:"url";s:81:"https://www.centralyachtagent.com/yachtadmin/yachtlg/yacht5548/5548brochure11.jpg";s:4:"desc";s:0:"";}i:12;a:2:{s:3:"url";s:81:"https://www.centralyachtagent.com/yachtadmin/yachtlg/yacht5548/5548brochure12.jpg";s:4:"desc";s:0:"";}i:13;a:2:{s:3:"url";s:81:"https://www.centralyachtagent.com/yachtadmin/yachtlg/yacht5548/5548brochure13.jpg";s:4:"desc";s:0:"";}i:14;a:2:{s:3:"url";s:81:"https://www.centralyachtagent.com/yachtadmin/yachtlg/yacht5548/5548brochure14.jpg";s:4:"desc";s:0:"";}i:15;a:2:{s:3:"url";s:81:"https://www.centralyachtagent.com/yachtadmin/yachtlg/yacht5548/5548brochure15.jpg";s:4:"desc";s:0:"";}i:16;a:2:{s:3:"url";s:81:"https://www.centralyachtagent.com/yachtadmin/yachtlg/yacht5548/5548brochure16.jpg";s:4:"desc";s:0:"";}i:17;a:2:{s:3:"url";s:81:"https://www.centralyachtagent.com/yachtadmin/yachtlg/yacht5548/5548brochure17.jpg";s:4:"desc";s:0:"";}i:18;a:2:{s:3:"url";s:81:"https://www.centralyachtagent.com/yachtadmin/yachtlg/yacht5548/5548brochure18.jpg";s:4:"desc";s:0:"";}i:19;a:2:{s:3:"url";s:81:"https://www.centralyachtagent.com/yachtadmin/yachtlg/yacht5548/5548brochure19.jpg";s:4:"desc";s:0:"";}}
https://www.cyabrochure.com/ebn/2294/pphcX/5548/1
https://www.cyabrochure.com/ebn/2294/pphcX/5548/3
a:24:{s:4:"tube";s:3:"Yes";s:6:"guests";s:2:"16";s:8:"maxspeed";s:2:"12";s:11:"pref_pickup";s:14:"Male, Maldives";s:12:"other_pickup";s:0:"";s:5:"draft";s:3:"2.5";s:14:"cruising_speed";s:2:"10";s:7:"helipad";s:2:"No";s:2:"ac";s:4:"Full";s:8:"ac_night";s:3:"Yes";s:5:"built";s:4:"2018";s:10:"turnaround";s:9:"24/48 hrs";s:6:"cabins";s:1:"8";s:4:"king";s:1:"2";s:5:"queen";s:1:"0";s:6:"double";s:1:"6";s:6:"single";s:1:"0";s:4:"twin";s:1:"0";s:7:"pullman";s:1:"0";s:7:"showers";s:1:"0";s:6:"basins";s:1:"0";s:5:"heads";s:1:"0";s:14:"electric_heads";s:1:"0";s:7:"jacuzzi";s:3:"Yes";}
a:7:{s:4:"flag";s:8:"Maldives";s:8:"homeport";s:14:"Male, Maldives";s:13:"resort_course";s:0:"";s:12:"yacht_permit";s:1:"1";s:13:"yacht_license";s:1:"1";s:9:"yacht_mca";s:1:"1";s:15:"yacht_insurance";s:0:"";}
including your own private whirlpool on flybridge, private office space and a private entertainment center with a large LCD TV, DVD player, game station and the latest in Bose surround sound system. There is also iPod connectivity allowing you to listen to your own music collection
a:22:{s:11:"dinghy_size";s:10:"Dive Dhoni";s:12:"kayaks_1_pax";s:1:"0";s:12:"kayaks_2_pax";s:3:"Yes";s:9:"dinghy_hp";s:3:"175";s:13:"floating_mats";s:1:"0";s:10:"dinghy_pax";s:2:"50";s:13:"swim_platform";s:0:"";s:16:"water_skis_adult";s:3:"Yes";s:15:"boarding_ladder";s:3:"yes";s:15:"water_skis_kids";s:1:"0";s:14:"sailing_dinghy";s:0:"";s:8:"jet_skis";s:3:"Yes";s:11:"beach_games";s:1:"0";s:12:"wave_runners";s:3:"Yes";s:9:"kneeboard";s:1:"0";s:10:"windsurfer";s:3:"Yes";s:12:"snorkel_gear";s:3:"Yes";s:17:"underwater_camera";s:3:"Yes";s:7:"scurfer";s:1:"0";s:16:"underwater_video";s:1:"0";s:10:"wake_board";s:3:"Yes";s:11:"paddleboard";s:3:"Yes";}
2
0
0
6
0
0
0
0
Male, Maldives
132
10
12
No delivery fees from Male For a embarkation in another Atoll in the Maldives, please inquire
No
38.00 m
132
Litres/Hr
1 May – 1 Sept  LS: 65,000 USD/ week + 12% GST + 5% APA *ALL-INCLUSIVE 1 Sept – 1 May  HS: 75,000 USD / week + 12% GST + 5% APA *ALL-INCLUSIVE X-Mas, NY and Easter: 85,000 USD /week + 12% GST + 5% APA *ALL-INCLUSIVE Daily charters are possible on request and at the rate of 12,000 USD/day + 12% GST + 5% APA *INCLUSIVE IN CHARTER a) All Accommodation on the vessel b) Full board Meal Plan: Breakfast ,Lunch and Dinner c) Laundry and Pressing Services d) Selective Wines during meal times e) Selective alcoholic drinks and cocktails f) Fresh juices & smoothies only during breakfast g) The services and the use of the facilities h) Green tax of 6 USD per person per night i) Unlimited Dive as per schedule j) Services of a qualified, experience English speaking PADI Dive Instructor l) Unlimited non-alcoholic beverages l) Visits to local islands m) Visits to Desert Islands n) Barbeque on Desert Island o) Snorkelling & Fishing Trips p) Photo Session on request q) Unlimited water sports ( jet ski , wake board , Water ski, SUP, … ) NON-INCLUSIVE CHARGEABLE SERVICES a) International Telephone calls b) Fine wines & Champagnes c) Other alcoholic brands d) Nitrox Dive e) Any Spa/massage treatments on request (320 USD/day for masseuse)* f) Yoga Teacher on request (145 USD/day for Yoga teacher)* g) Surf Guide on request (125 USD/day for Surf Guide)* h) PADI Dive courses on request (550 USD per Open Water course Per Person) *please note the prices above are for a service during the whole charter period. The charge for a masseuse is excluding her travel costs. The masseuse/yoga teacher/Surf Guide will sleep on board in the crew service cabins at no extra charge. i) Crew Gratuity (PLEASE NOTE THAT A 10% SERVICE CHARGE IS OBLIGED BY THE MALDIVIAN GOVERNMENT SINCE JANUARY 2021! PLEASE INFORM YOUR CLIENTS) --> APA: 5% of charter fee to cover for the non-exclusive expenses --> Service Charge of 10% can be paid via Credit Card on board before disembarkation or via Bank Transfer as we need this amount on the bank account as proof for the Local Revenue Authorities COMPLIMENTARIES All passengers to SEAREX charter cruise are entitled for the following services on complimentary basis; a) Meeting & Greeting services at the Airport b) Transfers from Airport to SEAREX and return from Start and End of the Trip. c) Unlimited bottle of water per cabin will be provided daily d) On Arrival Fruit Basket e) Local fishing gear f) Snorkelling gear g) Honeymoon and Birthday specials (Romantic room setup, cake and champagne) h) Wifi
All Inclusive
https://www.cyabrochure.com/ebn/2294/pphcX/5548/4
a:3:{s:16:"green_initiative";s:3:"Yes";s:16:"reusable_bottles";s:3:"Yes";s:19:"other_green_efforts";s:383:"SEAREX is not just the most luxurious yacht in Madlives, but also the most environmentally friendly. Extensive technological solutions have been used in order to achieve this including using specialist catalysts designed to cut down emissions by a massive 98% while reducing fuel consumption. A special marine sewage treatment system will produce treated water to be sent overboard. ";}
a:15:{s:5:"tanks";s:2:"16";s:9:"wet_suits";s:2:"16";s:15:"number_of_dives";s:0:"";s:11:"night_dives";s:1:"1";s:9:"dive_info";s:123:"A sperate 19.8m Dive Dhoni (MiniMe) will be available durin g every charter (if diving is requested) with 20 pax Dive Sets.";s:13:"communication";s:168:"Large LCD TV, DVD player, game station and the latest in Bose surround sound system. There is also iPod connectivity allowing you to listen to your own music collection";s:11:"full_course";s:7:"550 USD";s:14:"air_compressor";s:7:"Onboard";s:3:"bcs";s:2:"16";s:11:"weight_sets";s:2:"16";s:16:"number_of_divers";s:2:"20";s:20:"registrations_number";s:2:"16";s:11:"dive_lights";s:2:"16";s:10:"dive_costs";s:60:"PADI Dive courses (550 USD per Open Water course Per Person)";s:14:"scuba_on_board";s:7:"Onboard";}
a:4:{s:12:"fishing_gear";s:3:"Yes";s:17:"fishing_gear_type";s:0:"";s:4:"rods";s:0:"";s:16:"deep_sea_fishing";s:0:"";}
Maldives
Maldives
1
1
Onboard