AFT VIEW
Aft garage becoming a beach platform
Mayrilou in Barcelona
Flybridge table
Bright & spacious saloon
Saloon converted onto dinning area
VIP cabin on main deck
VIP cabin bathroom
Guest cabin 1
Guests cabin 2
Guests cabin 3 Queen-twin
Guests cabin 4 Queen-twin
Guests bathroom
TV in guests cabin
Sun baths area in main deck
jacuzzi in main deck
The flybridge
Sun baths area with jacuzzi
MAYRILOU Yacht Charter
Yacht Description
MAYRILOU yacht is a 68.00 ft long motor yacht monohull and spends the season in . It was built by Sunreef Yachts in 2017. The yacht layout features 5 cabins and accommodates 10 guests. The cabin arrangement is following: 3 queen cabins, 2 twin cabins.
The motor yacht features 2 x 5000 HP - John Deere engines and a generator.
Accommodation
MAYRILOU is accomodating up to 10 guests in 5 cabins as follow:



Main deck: 1 VIP cabin (frontside)

Starboard: 1 Master cabin (aftboard) + 1 double cabin converted in twin 80 x 200 cm size beds (frontside)

Portside: 1 double cabin (aftboard) + 1 double cabin converted in twin 80 x 200 cm size beds (frontside)



All Guests cabins are equipped with Queen size beds.

Each Guests cabin has separate heads & shower and air conditionning with private control.



Also TV sets, sono Surround 5.1, plugs (1 x 110V-60Hz + 1 x 220V-50Hz + 2 USB ports), hair dryer and safe.



Separate crew quarter: aft portside cabin + starboard peak
MAYRILOU Yacht Details
38,000 - 45,000
Weekly price low-high season
MAYRILOU Charter Price Details
| | | | | | | | | | | | |
| --- | --- | --- | --- | --- | --- | --- | --- | --- | --- | --- | --- |
| Season Name | 2 guests | 3 guests | 4 guests | 5 guests | 6 guests | 7 guests | 8 guests | 9 guests | 10 guests | 11 guests | 12 guests |
| Winter 2019 to 2020 | €38,000 | €38,000 | €38,000 | €38,000 | €38,000 | €40,000 | €40,000 | €40,000 | €40,000 | €0 | €0 |
| Summer 2020 | €43,000 | €43,000 | €43,000 | €43,000 | €45,000 | €45,000 | €45,000 | €45,000 | €45,000 | €0 | €0 |
| Summer 2021 | €43,000 | €43,000 | €43,000 | €43,000 | €45,000 | €45,000 | €45,000 | €45,000 | €45,000 | €0 | €0 |
Price Terms
Plus Expenses
Price Details
SUMMER WEEKLY RATES 2020 and 2021:
March - April -May -June-September - October / 2-5 guests: 38 000 EUROS / 6-10 guests: 40 000 EUROS
July-August / 2-5 guests: 43 000 EUROS / 6-10 guests: 45 000 EUROS
MYBA Terms: + 30% APA + VAT to cover all expenses
One week minimum required - Depending of the calendar and at low season 5 days could be considered.

WINTER WEEKLY RATES 2020-2021: UNAVAILABLE
November to April: 2-6 guests: USD 38 000 / 7-10 guests: USD 40 000
MYBA Terms: + 30% APA to cover all expenses
For Virgin Islands: $ 2 500 of delivery fees round trip to cover the fuel
For Antigua: $ 3 500 of delivery fees round trip to cover the fuel
One week minimum required - Depending of the calendar and at low season 5 days could be considered.
CHRISTMAS WEEK: December 22-29 (drop off at 10:00 AM) / 2-10 guests: USD 45 000 + 30% APA
NEW YEAR WEEK : December 30 - January 6 (Boarding at 2:00 PM) / 2-10 guests: USD 50 000 + 30% APA
ANY OTHER DATES OVER HOLIDAY: 10 days minimum charged at the New Year rate.:71 429 USD + 30% of APA – MYBA terms
+ Delivery fee if any other port from Saint Martin
Amenities
Generator:
2 Synchronized KOEHLER: 35 KVA
Voltages:
no need adapators
Features
BBQ: Yes
AC: Full
Generator: 2 Synchronized KOEHLER: 35 KVA
Internet: Onboard WIFI
Cruising Speed: 10
Max Speed: 18
More Specifications
Homeport:
WEST MED - CROATIA
Yacht Insurance:
ONLY YACHTS - MONACO
Diving
Dive Info:
RENDE VOUS DIVING ONLY
Communication:
Internet Satellite (not included in standard charter cost)
4 G internet communication
WI-FI access
Satellite TV
Air Compressor:
Not Onboard
Scuba On Board:
Yacht offers Rendezvous Diving only
Other Entertainment
In the saloon, Radio MP3, LCD TV & DVD equipped with ANDROID & AIRPLAY systems working with Bluetooth.

USB plusg In the salon and in all cabins are making mobiles, iPhone, iPod, iPad recharge possible. Also possible for any other audio equipment through Bluetooth and/or WiFi;

Speakers connected to lounge HI-FI set (Saloon, cockpit & flybridge)

Swimming ladders
Deck shower
Garage for nautic toys
Fly bridge with large sunpads and cushions
Cockpit lights

BBQ - Expresso
Crew
CAPTAIN
CHEF
Deck Hand
STEWARDESS
Captain: Caroline BOURDIN
CAPTAIN: Caroline BOURDIN
French
200 & 500 STCW 95
Languages: French, English conversational

Caroline's father was an airplane pilot with a real passion for sailing and the sea. She was very lucky to travel around the world from her youngest age.
She discovered sailing during family cruises, exploring the West Indies, French Polynesia and the Mediterranean.
She studied management in La Rochelle in Atlantic coast of France and used to make lot of regatta on famous sailing yachts like TUIGA or MOONBEAM.
She worked during 10 years on her own in the organization of events and nautical training.
Then 6 years ago Caroline chose to change her life and became finally a sailor which was her ever dream.
She got all proper diploma & mechanics certificate and did start a new career in yachting!
Caroline has worked on the Mangousta 108 NAISCA V, on the Princess 64 JTM999 and as on the Turkish Gulet VITA DOLCE.
Warm hearted and friendly, she will make client's expectations her priority ensuring safety and best atmosphere cruise.


CHEF: Christelle VANNIER
French
STCW
Languages: French and English

Christelle's roots are in the beautiful, snow-capped mountains ofFrance following a long and varied career as a sports instructor at mountain resorts.
She moved to the south of France where she became involved in the hotel and restaurant industries.
In 2000 Christelle began working on yachts in the Mediterranean and Caribbean as stewardess and then as a chef and has since worked on several large, busy charter yachts, both sail and power, offering a high level of service.
She is delighted to be on Mayrilou where she is able to share with guests on a personal level her love of sailing while helping to create a memorable holiday experience with her talents in international cuisine and hospitality.


STEWARDESS: Cécile SAMIN
French
STCW
Languages: fluent english, basic spanish

My name is Cecile, and I'm from Brittany. I have lived in the islands for a long time (Reunion Island in the Indian Ocean, and Martinique in the French Carribean), where I could practice scuba diving and apnea. My passion for diving started with a passion for sharks.
Before working in the yachting industry, I was a salesperson in the advertising field.
But after 10 years in this domain, I needed a new challenge related to the sea.
Then I worked as deckhand in the Mediterranean and in the Caribbean aboard several yachts among: S/Y Lady Emily 88', S/Y Eriba 59', S/Y Melchior 60'.
I worked also 2 years ago aboard Mayrilou as relief deckhand and hostess thus I'm very happy to join again the team and looking forward to welcoming new guests.


ENGINEER / DECKHAND: Cedric NICOLAS
French
STCW
Languages: French, basic English

Cedric is born in Nice area. He grew up between the sea and the mountain with trips in the islands overseas.
Pushed by his family who always worked in this field, he started his young career working in some famous restaurants and hotels in the French Riviera and in La Reunion Island,
While visiting le Meridien Hotel in Monaco he had the opportunity to start working in the safety field which did bring him to develop various skills including maintenance of mechanical machinery and to volunteer at the SNSM for the safety committee of the yacht club of Monaco, the safety and the security of the marina.
Cedric met Caroline when he was working for the Port master of Golfe Juan. He decided to do everything possible to embark and live on the sea with her. He returned to school to pass his certificates. He took the position of 3rd engineer & deckhand on CAPELLA C, an amazing 60m exploration vessel during nearly 2 years.
Aboard MAYRILOU, he will be available for everyone, dedicated to high-end service and a keen sense of details.
Menu
Reviews:
Charter on July 25 - Aug 1st, 2020 / Ajaccio - Bonifacio / a group of 8 Bulgarian
I wanted to pass on my sincere thanks and appreciation for providing us with such a fabulous Yacht for charter, but most of all please can you thank the Owner personally from me for selecting the BEST Captain/Crew who worked so hard and did a really great job with this one.
It was a lot of hard work for them, the clients were constantly changing their mind and a 'full group' of people on board, and Bulgarian which adds to the communication complexity!
Caroline was absolutely amazing, she was exceptional in her attitude and her approach to every situation.
She was pleasure to work with from a broker perspective, start to end, always positive and smiling and helpful.
The client sent me a nice photo of them all having dinner last night, it looked gorgeous and they added good compliments about the Crew.
So please do be sure to thank the Owner, I want the Owner to know that is it because of crew like this which makes us Brokers promote and book their yachts above all other choices!
And of course MAYRILOU is an outstanding yacht of great quality.
Charter on July 20-27, 2019 / Split – Dubrovnik / Family of 8
Dear beautiful Mayrilou crew (Captain Jean-Pierre, Chef Luca, Chief-of-staff Dorine and Master of toys Max)
There are no words to describe what a fantastic trip this was for all of us. You exceeded all of our expectations. Yes, Mayrilou is a beautiful boat, but it would just be another beautiful boat without the 4 of you. You each, in your and special way made the Mayrilou the most exceptionnal boat that ever « sailed » the Croatian islands. We noticed everything (well almost everything) you did to make our week one we will never forget. Thank you is simply not enough. This was all I hoped my 100th birthday trip would be … and so much more. Thank you, Thank you, Thank you !!! Please come visit us in Los Angeles – We will give you all our contact information. Perhaps we can show you some California hospitality.
T.
Truly thank you guys for such an amazing trip ! We had so much fun and it was due to all your amazing hospitality ! Thanks again and come visit us !
C.
Thank you so much for such an amazing trip you have made this week one I will never forget I hope you all shared as many laughs as we did and remember us again when you play/teach MAFIA to your own friends ! Safe travels to all your future trips !!
K.
This was without a doubt the best week of my life, and that is 100% thanks to all of you. Considering the 5 stars meats from Luca, the navigating lessons from JP, the unparalleled hospitality from Dorine, and boating around with Max, this trip can truly not be best. Thank you all for going above be beyond for us and making this an adventure we'll never forget ! Miss you already !
C.
Many thanks to you all for taking care of us. We wanted for nothing ! It was all thanks to the amazing crew.
S.
Dear JP, Max, Luca and Dorine. We can't thank you enough for the last seven days. Everything was perfect – the food, the ambiance, the locations and the attitude of the crew. Your smiles and friendly nature greatly contributed to the trip of a life time. You all helped J. « 60th Dream » come true. We will never forget the daily breakfast buffet, the beautiful setting for every meal, the can do attitude, the nightly cruises and the endless diving and swimming in the beautiful Adriatic water.
Thank you all so much. Your efforts made our trip more than special ! We look forward to seing you all soon. Hopefully our paths will cross sooner rather than late !!!
C.

Charter on July 7-14, 2019 / Trogir – Tivat / Family of 8
What an amazing trip, and such a nice and attentive crew. Merci pour tout, la bonne cuisine de Luca, les cocktails de Dorine, la pêche de Maxime et les beaux endroits de Juan Pedro Delstanches.
P.
This was a fun trip with seabobs, great food, and confortable beds. The best part was the crew's service and taking cooking lessons from Luca. Thank you.
S.
I am going to miss you crew, the seabobs are very fast, I have them, they are the coolest things, the beds are the most confortable I've ever slept in, they are the coolest. I wish the jacuzzi was very hot. I wish I could drive the boat so the captain couldn't do it, and that's very hard for John Peter to drive. This is the loveliest crew ever and I love them. It's the best day. I wish for breakfast in bed. The life here was amazing. I wished I lived here everyday.
Love
G. (5 years old)
Super équipe ! Merci beaucoup, pour ce séjour agréable sur Mayrilou.
M.
Thank you so much for all of your hard work this trip. The beds are extremely comfortable. I enjoyed using the seabobs and jet skis.
Love
E.H

Charter on March 22-30, 2019 in the Leeward Islands / Family of 9
Thank you for being such a wonderful crew. You made our Spring break the best we have had. The wonderful boat, great meals, sun, water sports and positive way of doing everything is a real credit. Hopefully we will see you all again.
xoxo J. B. C


Thank you so much for making this an amazing trip! I had so much fun! You all did everything possible to make this amazing and memerable! Thank you all for everything you did!
F.

Thank you for the best trip ever. You guys were amazing. Thank you for making the trip great.
From M.

Our best Spring Break ever! Thank you for an amazing relaxing week in Antigua. You all made us feel right at hom and the trip was perfect from beginning to end.
xoxo the W.

Thank you all for being the nicest crew ever! I had so much fun on Mayrilou! Thank you for all the work you did for us. It was a great trip
Love, F W.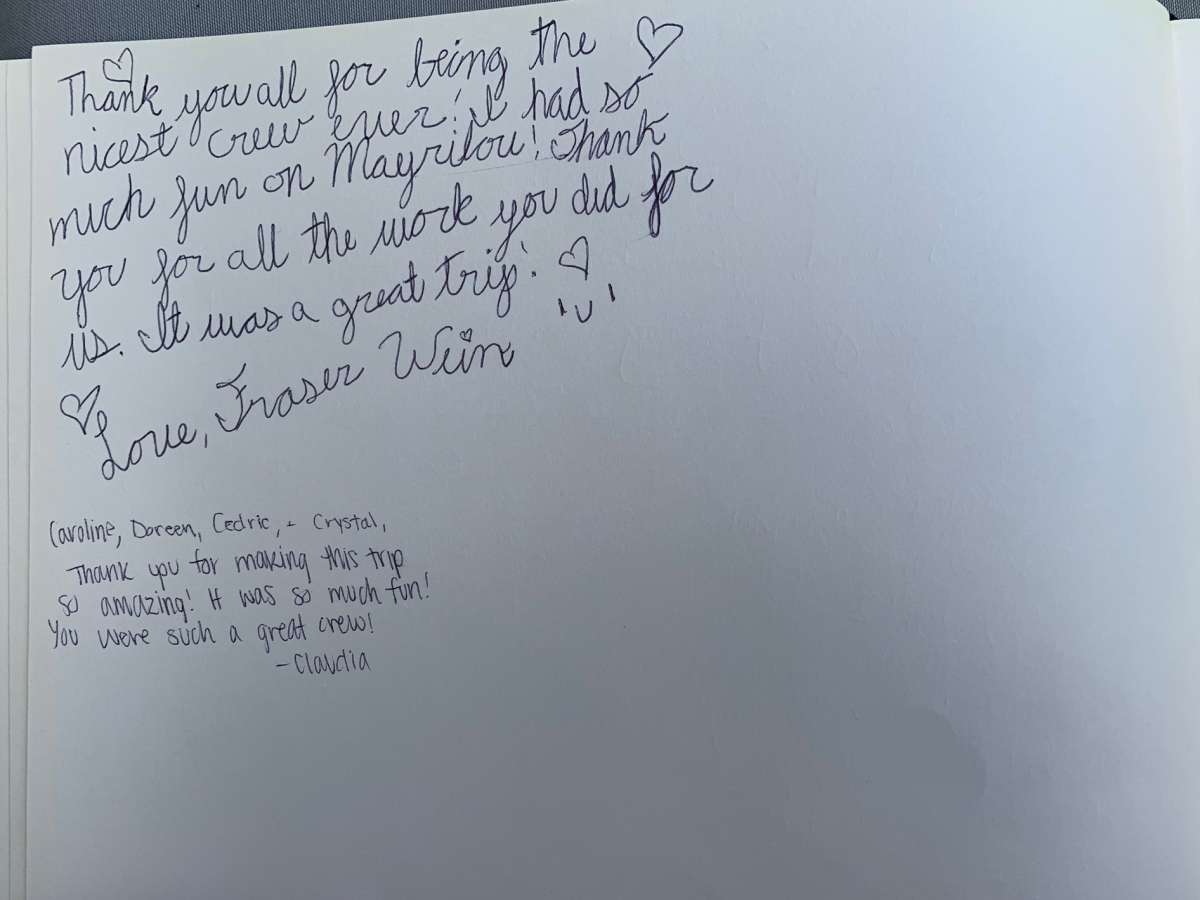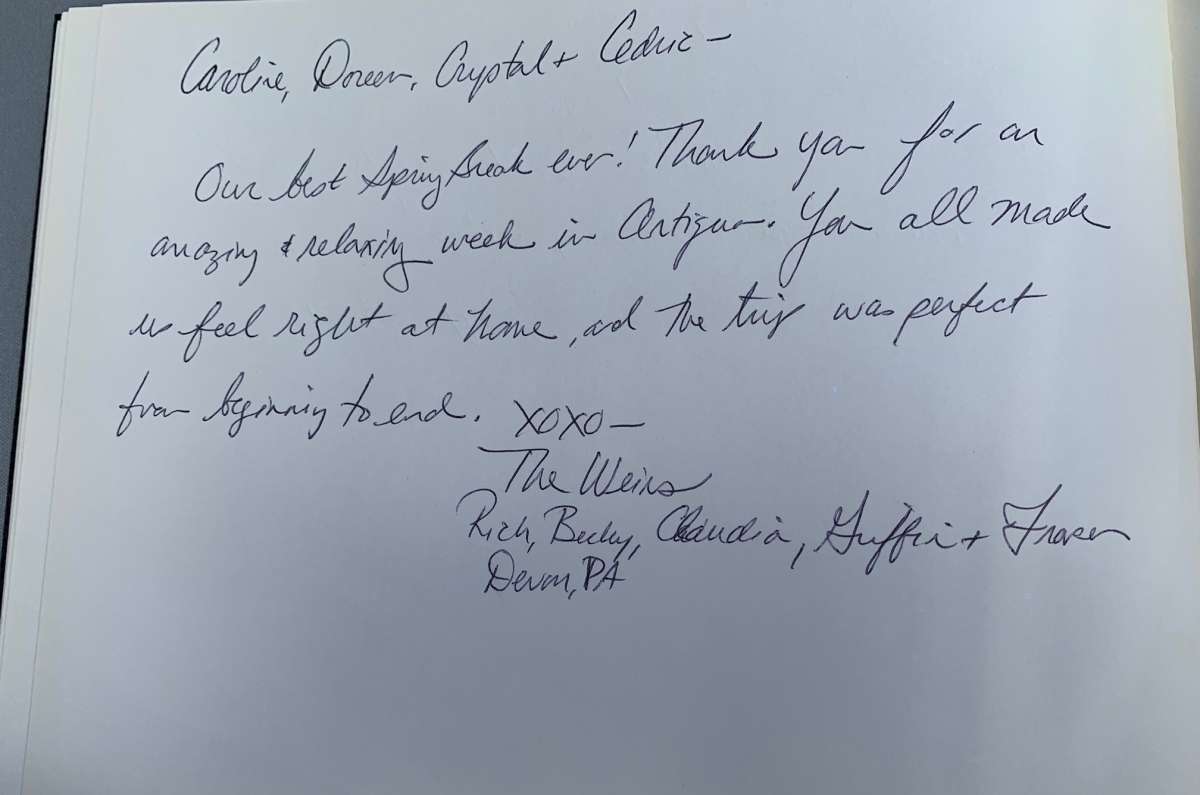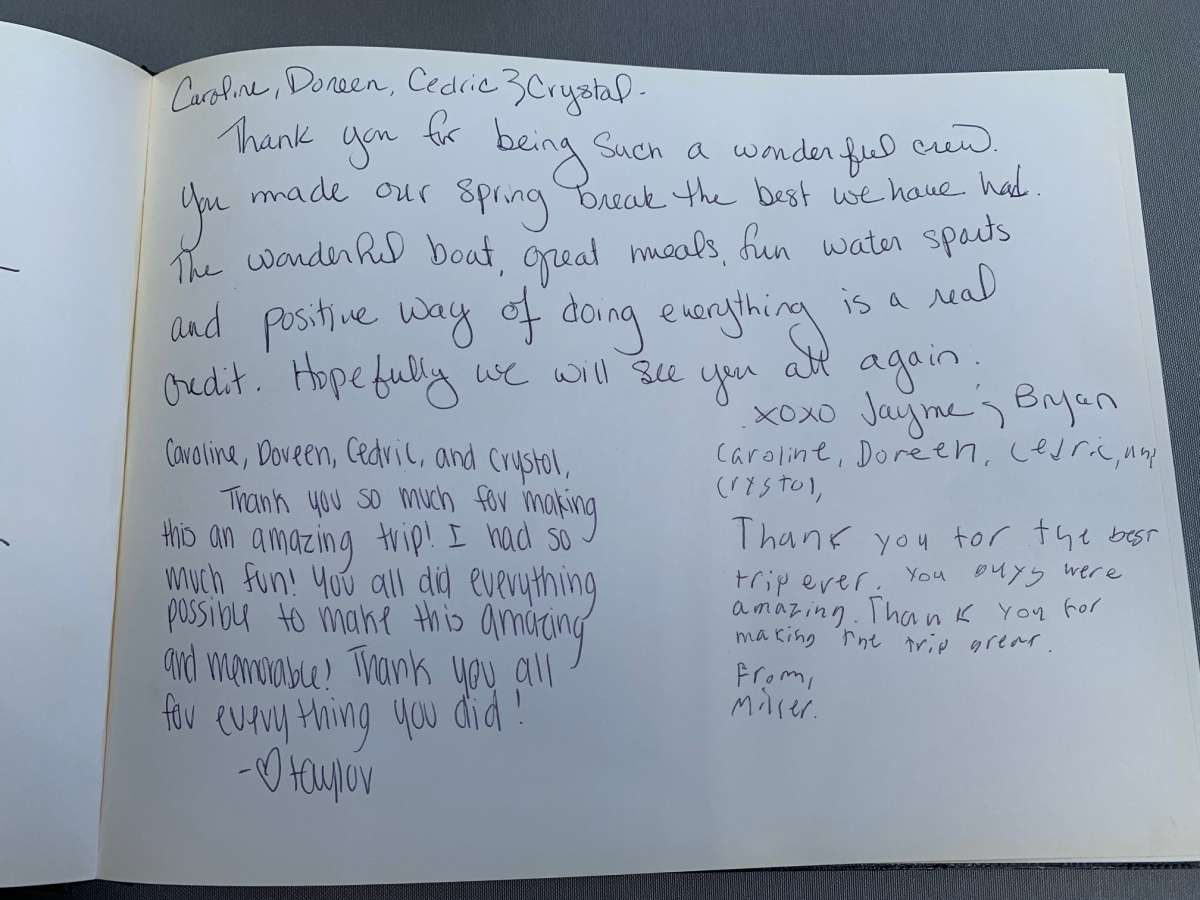 Charter on December 30 to January 6, 2019 in St Martin / American group of 8
Dear S.

Our trip was perfect and a great way to celebrate Martin's birthday which Luca made an amazing dinner (that even included a cake!)
We all absolutely loved our time on the Mayrilou. The crew were incredible. From Caroline's flawless captaining to Luca's sublime food, Cedric's ability to do just about everything; the man does not need sleep!. And lastely sweet Dorine with the adorable laugh was such a pleasure to have around.
I wouldn't have changed a thing (except perhaps the choppy crossings - which is no fault to Caroline - just the conditions). caroline organised a great itinerary for us, spending time in St Barts, Anguilla and a sweet island off st Marteen.
The boat was so spacious and well appointed and allowed for anyone who wanted space to have it.
The toys were a huge hit; especially the wake boards and seabobs.
Once again thank you for all!
C.
The outstanding elements of the trip were the crew and the commun spaces aboard.
All the crew were very good, but captain Caroline and Cook Luca in particular. The onboard space was of a very high standard and massive for a boat for this lenght.
Anguilla and St Barts were wonderful locations and Caroline found the best anchorage especially for St Barts New Year fireworks!
Highpoint di a great job with our charter, especially given our original charter was cancelled at short notice, and you found a great wonderful replacement.
Many thanks.
M.

Gallery
5434
http://www.centralyachtagent.com/snapins/ebrochure-xml.php?idin=5434&uid=2294&user=2294
5
Power
Y
https://www.centralyachtagent.com/yachtadmin/yachtimg/yacht5434/5434brochure88.jpg
10
W. Med -Naples/Sicily, W. Med -Riviera/Cors/Sard.
W. Med -Naples/Sicily, W. Med -Riviera/Cors/Sard.
68.00
34.4
4.5

2 Seabob jet
1 Jet ski (only in Mediterranean and driving licence needed to use it)
2 Water ski (1 for adut, 1 for kids)
1 Wakeboard
2 Wake surf
1 Hydroslide (between kneeboard/skimboard/wake very funny and safe for kids)
2 Inflattable paddle
1 inflatable kayak (for 3 persons)
1 Donut
Beach toys ( rakets, foam chips for bathing, water guns...)
Fishing equipment
Deep sea fishing gear (very light equipment)
Snorkeling for 8 (adults & kids)

Rendez-vous diving only
Semi-rigid tender 15 feet / Engine: Honda 4 stroke 50 HP
a:34:{s:12:"salon_stereo";s:3:"Yes";s:8:"salon_tv";s:3:"Yes";s:6:"sat_tv";s:3:"Yes";s:17:"multimedia_system";s:0:"";s:4:"nude";s:3:"Inq";s:5:"books";s:0:"";s:9:"crew_pets";s:2:"No";s:8:"pet_type";s:0:"";s:10:"guest_pets";s:2:"No";s:9:"camcorder";s:1:"0";s:14:"number_dine_in";s:0:"";s:11:"water_maker";s:3:"Yes";s:14:"water_capacity";s:6:"1000 L";s:9:"ice_maker";s:3:"Yes";s:14:"number_of_dvds";s:3:"Yes";s:13:"number_of_cds";s:3:"Yes";s:11:"board_games";s:3:"Yes";s:10:"sun_awning";s:3:"Yes";s:6:"bimini";s:3:"Yes";s:13:"special_diets";s:3:"Inq";s:6:"kosher";s:3:"Inq";s:3:"bbq";s:3:"Yes";s:12:"gay_charters";s:3:"Inq";s:10:"hairdryers";s:3:"Yes";s:22:"number_of_port_hatches";s:0:"";s:7:"smoking";s:0:"";s:11:"crew_smokes";s:3:"Inq";s:11:"children_ok";s:3:"Yes";s:17:"minimum_child_age";s:0:"";s:9:"generator";s:30:"2 Synchronized KOEHLER: 35 KVA";s:8:"inverter";s:0:"";s:8:"voltages";s:17:"no need adapators";s:7:"hammock";s:0:"";s:10:"windscoops";s:0:"";}
Full
Yes
Onboard WIFI
2 Synchronized KOEHLER: 35 KVA
2 x 5000 HP - John Deere
2017
Sunreef Yachts


Main deck: 1 VIP cabin (frontside)
Starboard: 1 Master cabin (aftboard) + 1 double cabin converted in twin 80 x 200 cm size beds (frontside)
Portside: 1 double cabin (aftboard) + 1 double cabin converted in twin 80 x 200 cm size beds (frontside)

All Guests cabins are equipped with Queen size beds.
Each Guests cabin has separate heads & shower and air conditionning with private control.

Also TV sets, sono Surround 5.1, plugs (1 x 110V-60Hz + 1 x 220V-50Hz + 2 USB ports), hair dryer and safe.

Separate crew quarter: aft portside cabin + starboard peak
MAYRILOU is accomodating up to 10 guests in 5 cabins as follow:
EUR
38000
38000
€45,000
SUMMER WEEKLY RATES 2020 and 2021: March - April -May -June-September - October / 2-5 guests: 38 000 EUROS / 6-10 guests: 40 000 EUROS July-August / 2-5 guests: 43 000 EUROS / 6-10 guests: 45 000 EUROS MYBA Terms: + 30% APA + VAT to cover all expenses One week minimum required - Depending of the calendar and at low season 5 days could be considered. WINTER WEEKLY RATES 2020-2021: UNAVAILABLE November to April: 2-6 guests: USD 38 000 / 7-10 guests: USD 40 000 MYBA Terms: + 30% APA to cover all expenses For Virgin Islands: $ 2 500 of delivery fees round trip to cover the fuel For Antigua: $ 3 500 of delivery fees round trip to cover the fuel One week minimum required - Depending of the calendar and at low season 5 days could be considered. CHRISTMAS WEEK: December 22-29 (drop off at 10:00 AM) / 2-10 guests: USD 45 000 + 30% APA NEW YEAR WEEK : December 30 - January 6 (Boarding at 2:00 PM) / 2-10 guests: USD 50 000 + 30% APA ANY OTHER DATES OVER HOLIDAY: 10 days minimum charged at the New Year rate.:71 429 USD + 30% of APA – MYBA terms + Delivery fee if any other port from Saint Martin

French
200 & 500 STCW 95
Languages: French, English conversational

Caroline's father was an airplane pilot with a real passion for sailing and the sea. She was very lucky to travel around the world from her youngest age.
She discovered sailing during family cruises, exploring the West Indies, French Polynesia and the Mediterranean.
She studied management in La Rochelle in Atlantic coast of France and used to make lot of regatta on famous sailing yachts like TUIGA or MOONBEAM.
She worked during 10 years on her own in the organization of events and nautical training.
Then 6 years ago Caroline chose to change her life and became finally a sailor which was her ever dream.
She got all proper diploma & mechanics certificate and did start a new career in yachting!
Caroline has worked on the Mangousta 108 NAISCA V, on the Princess 64 JTM999 and as on the Turkish Gulet VITA DOLCE.
Warm hearted and friendly, she will make client's expectations her priority ensuring safety and best atmosphere cruise.


CHEF: Christelle VANNIER
French
STCW
Languages: French and English

Christelle's roots are in the beautiful, snow-capped mountains ofFrance following a long and varied career as a sports instructor at mountain resorts.
She moved to the south of France where she became involved in the hotel and restaurant industries.
In 2000 Christelle began working on yachts in the Mediterranean and Caribbean as stewardess and then as a chef and has since worked on several large, busy charter yachts, both sail and power, offering a high level of service.
She is delighted to be on Mayrilou where she is able to share with guests on a personal level her love of sailing while helping to create a memorable holiday experience with her talents in international cuisine and hospitality.


STEWARDESS: Cécile SAMIN
French
STCW
Languages: fluent english, basic spanish

My name is Cecile, and I'm from Brittany. I have lived in the islands for a long time (Reunion Island in the Indian Ocean, and Martinique in the French Carribean), where I could practice scuba diving and apnea. My passion for diving started with a passion for sharks.
Before working in the yachting industry, I was a salesperson in the advertising field.
But after 10 years in this domain, I needed a new challenge related to the sea.
Then I worked as deckhand in the Mediterranean and in the Caribbean aboard several yachts among: S/Y Lady Emily 88', S/Y Eriba 59', S/Y Melchior 60'.
I worked also 2 years ago aboard Mayrilou as relief deckhand and hostess thus I'm very happy to join again the team and looking forward to welcoming new guests.


ENGINEER / DECKHAND: Cedric NICOLAS
French
STCW
Languages: French, basic English

Cedric is born in Nice area. He grew up between the sea and the mountain with trips in the islands overseas.
Pushed by his family who always worked in this field, he started his young career working in some famous restaurants and hotels in the French Riviera and in La Reunion Island,
While visiting le Meridien Hotel in Monaco he had the opportunity to start working in the safety field which did bring him to develop various skills including maintenance of mechanical machinery and to volunteer at the SNSM for the safety committee of the yacht club of Monaco, the safety and the security of the marina.
Cedric met Caroline when he was working for the Port master of Golfe Juan. He decided to do everything possible to embark and live on the sea with her. He returned to school to pass his certificates. He took the position of 3rd engineer & deckhand on CAPELLA C, an amazing 60m exploration vessel during nearly 2 years.
Aboard MAYRILOU, he will be available for everyone, dedicated to high-end service and a keen sense of details. ";s:5:"photo";s:82:"https://www.centralyachtagent.com/yachtadmin/yachtimg/yacht5434/5434brochure44.jpg";s:4:"size";s:1:"4";s:12:"captain_name";s:16:"Caroline BOURDIN";s:14:"captain_nation";s:6:"French";s:12:"captain_born";s:1:"0";s:15:"captain_license";s:18:"STCW - Captain 500";s:18:"captain_yr_sailing";s:1:"0";s:21:"captain_yr_chartering";s:1:"0";s:17:"captain_languages";s:16:"French, English ";s:9:"crew_name";s:18:"Christelle VANNIER";s:16:"crew_nationality";s:6:"French";s:12:"crew_license";s:4:"STCW";s:15:"crew_yr_sailing";s:1:"0";s:18:"crew_yr_chartering";s:1:"0";s:7:"crewimg";a:4:{i:1;a:2:{s:3:"url";s:76:"https://www.centralyachtagent.com/yachtadmin/yachtlg/yacht5434/5434crew1.jpg";s:4:"desc";s:7:"CAPTAIN";}i:2;a:2:{s:3:"url";s:77:"https://www.centralyachtagent.com/yachtadmin/yachtimg/yacht5434/5434crew2.jpg";s:4:"desc";s:5:"CHEF ";}i:3;a:2:{s:3:"url";s:76:"https://www.centralyachtagent.com/yachtadmin/yachtlg/yacht5434/5434crew3.jpg";s:4:"desc";s:9:"Deck Hand";}i:4;a:2:{s:3:"url";s:76:"https://www.centralyachtagent.com/yachtadmin/yachtlg/yacht5434/5434crew4.jpg";s:4:"desc";s:10:"STEWARDESS";}}}
a:16:{s:4:"info";s:4111:"CAPTAIN: Caroline BOURDIN
https://www.centralyachtagent.com/yachtadmin/yachtlg/yacht5434/5434brochure1.jpg
AWARDED FOR ITS LAYOUT AT THE WORLD YACHTS TROPHIES 2016, MAYRILOU is offering a surface of a superyacht on 24 m unit: 300 sqm of living space in a new radical shape allowing to keep the saloon and exterior deck on the same level. Also an huge main room surrounded with floor to ceiling glass, a smooth and seamless space opening onto the cockpit and giving access to deck through folding doors on both sides of the yacht and an aft garage with a door creating a beach platform after opening. To complete her assets list, the yacht is offering also sophisticated technical equipment and big variety of water activities. With her 3 dedicated crew members, there is no doubt all is combining to assure exceptionnel time aboard MAYRILOU!
a:18:{i:2;a:2:{s:3:"url";s:80:"https://www.centralyachtagent.com/yachtadmin/yachtlg/yacht5434/5434brochure2.jpg";s:4:"desc";s:8:"AFT VIEW";}i:3;a:2:{s:3:"url";s:80:"https://www.centralyachtagent.com/yachtadmin/yachtlg/yacht5434/5434brochure3.jpg";s:4:"desc";s:36:"Aft garage becoming a beach platform";}i:4;a:2:{s:3:"url";s:80:"https://www.centralyachtagent.com/yachtadmin/yachtlg/yacht5434/5434brochure4.jpg";s:4:"desc";s:21:"Mayrilou in Barcelona";}i:5;a:2:{s:3:"url";s:80:"https://www.centralyachtagent.com/yachtadmin/yachtlg/yacht5434/5434brochure5.jpg";s:4:"desc";s:15:"Flybridge table";}i:6;a:2:{s:3:"url";s:80:"https://www.centralyachtagent.com/yachtadmin/yachtlg/yacht5434/5434brochure6.jpg";s:4:"desc";s:28:"Bright & spacious saloon";}i:7;a:2:{s:3:"url";s:80:"https://www.centralyachtagent.com/yachtadmin/yachtlg/yacht5434/5434brochure7.jpg";s:4:"desc";s:34:"Saloon converted onto dinning area";}i:8;a:2:{s:3:"url";s:80:"https://www.centralyachtagent.com/yachtadmin/yachtlg/yacht5434/5434brochure8.jpg";s:4:"desc";s:22:"VIP cabin on main deck";}i:9;a:2:{s:3:"url";s:80:"https://www.centralyachtagent.com/yachtadmin/yachtlg/yacht5434/5434brochure9.jpg";s:4:"desc";s:18:"VIP cabin bathroom";}i:10;a:2:{s:3:"url";s:81:"https://www.centralyachtagent.com/yachtadmin/yachtlg/yacht5434/5434brochure10.jpg";s:4:"desc";s:13:"Guest cabin 1";}i:11;a:2:{s:3:"url";s:81:"https://www.centralyachtagent.com/yachtadmin/yachtlg/yacht5434/5434brochure11.jpg";s:4:"desc";s:14:"Guests cabin 2";}i:12;a:2:{s:3:"url";s:81:"https://www.centralyachtagent.com/yachtadmin/yachtlg/yacht5434/5434brochure12.jpg";s:4:"desc";s:25:"Guests cabin 3 Queen-twin";}i:13;a:2:{s:3:"url";s:81:"https://www.centralyachtagent.com/yachtadmin/yachtlg/yacht5434/5434brochure13.jpg";s:4:"desc";s:25:"Guests cabin 4 Queen-twin";}i:14;a:2:{s:3:"url";s:81:"https://www.centralyachtagent.com/yachtadmin/yachtlg/yacht5434/5434brochure14.jpg";s:4:"desc";s:15:"Guests bathroom";}i:15;a:2:{s:3:"url";s:81:"https://www.centralyachtagent.com/yachtadmin/yachtlg/yacht5434/5434brochure15.jpg";s:4:"desc";s:18:"TV in guests cabin";}i:16;a:2:{s:3:"url";s:81:"https://www.centralyachtagent.com/yachtadmin/yachtlg/yacht5434/5434brochure16.jpg";s:4:"desc";s:27:"Sun baths area in main deck";}i:17;a:2:{s:3:"url";s:81:"https://www.centralyachtagent.com/yachtadmin/yachtlg/yacht5434/5434brochure17.jpg";s:4:"desc";s:20:"jacuzzi in main deck";}i:18;a:2:{s:3:"url";s:81:"https://www.centralyachtagent.com/yachtadmin/yachtlg/yacht5434/5434brochure18.jpg";s:4:"desc";s:13:"The flybridge";}i:19;a:2:{s:3:"url";s:81:"https://www.centralyachtagent.com/yachtadmin/yachtlg/yacht5434/5434brochure19.jpg";s:4:"desc";s:27:"Sun baths area with jacuzzi";}}
<ul> <li style="text-align: center;">&nbsp;</li> <li style="text-align: center;"><span style="font-family: arial, helvetica, sans-serif; font-size: 14pt; background-color: #ffffff; color: #0000ff;">MAYRILOU&nbsp;</span></li> <li style="text-align: center;"><span style="font-family: arial, helvetica, sans-serif;">Sample menu by Christelle VANNIER</span></li> <li style="text-align: center;">&nbsp;</li> <li style="text-align: center;"><span style="font-family: arial, helvetica, sans-serif; color: #0000ff;">BREAKFAST</span><br /><span style="font-family: arial, helvetica, sans-serif;">Fruit juice, selection of teas, coffee, milk</span><br /><span style="font-family: arial, helvetica, sans-serif;">bacon and eggs with french baguette or toast, butter, honey, marmelade</span><br /><span style="font-family: arial, helvetica, sans-serif;">fresh caribbean fruits, muesli , yogurt, freshly baked croissants</span><br /><span style="font-family: arial, helvetica, sans-serif;">pancakes with mapple syrup</span></li> <li style="text-align: center;">&nbsp;</li> <li style="text-align: center;"><span style="font-family: arial, helvetica, sans-serif; color: #0000ff;">LUNCH </span></li> <li style="text-align: center;"><span style="font-family: arial, helvetica, sans-serif;">Tahitian Style St Jacques scallops</span></li> <li style="text-align: center;"><span style="font-family: arial, helvetica, sans-serif;">Curry Shrimp with Creole rice</span></li> <li style="text-align: center;"><span style="font-family: arial, helvetica, sans-serif;">Fruit skewer</span></li> <li style="text-align: center;">&nbsp;</li> <li style="text-align: center;"><span style="font-family: arial, helvetica, sans-serif;">Salad of green beans with Almonds</span></li> <li style="text-align: center;"><span style="font-family: arial, helvetica, sans-serif;">Quiche with spinach and goat cheese accompanied by Cesar salad</span></li> <li style="text-align: center;"><span style="font-family: arial, helvetica, sans-serif;">Passion fruit Mousse</span></li> <li style="text-align: center;">&nbsp;</li> <li style="text-align: center;"><span style="font-family: arial, helvetica, sans-serif;">Greek Salad</span></li> <li style="text-align: center;"><span style="font-family: arial, helvetica, sans-serif;">Honey lemon chicken breast</span></li> <li style="text-align: center;"><span style="font-family: arial, helvetica, sans-serif;">Mashed sweet potatoes -</span></li> <li style="text-align: center;"><span style="font-family: arial, helvetica, sans-serif;">Banana-coconut composition in her glass cup</span></li> <li style="text-align: center;">&nbsp;</li> <li style="text-align: center;"><span style="font-family: arial, helvetica, sans-serif;">Japanese salad</span></li> <li style="text-align: center;"><span style="font-family: arial, helvetica, sans-serif;">Octopus accompagnied by its seaweed salad</span></li> <li style="text-align: center;"><span style="font-family: arial, helvetica, sans-serif;">Frosted exotic lemons</span></li> <li style="text-align: center;">&nbsp;</li> <li style="text-align: center;"><span style="font-family: arial, helvetica, sans-serif;">Pineapple in cocktail</span></li> <li style="text-align: center;"><span style="font-family: arial, helvetica, sans-serif;">Semi-cooked tuna in sesame whith mashed potatoes</span></li> <li style="text-align: center;"><span style="font-family: arial, helvetica, sans-serif;">Rasperry granite</span></li> <li style="text-align: center;">&nbsp;</li> <li style="text-align: center;"><span style="font-family: arial, helvetica, sans-serif;">Gaspacho</span></li> <li style="text-align: center;"><span style="font-family: arial, helvetica, sans-serif;">Zucchini tart with parmesan rocket</span></li> <li style="text-align: center;"><span style="font-family: arial, helvetica, sans-serif;">Freshness pineapple passion</span></li> <li style="text-align: center;">&nbsp;</li> <li style="text-align: center;">&nbsp;</li> <li style="text-align: center;"><span style="font-family: arial, helvetica, sans-serif; color: #0000ff;"><strong><em>DINER</em></strong></span></li> <li style="text-align: center;">&nbsp;</li> <li style="text-align: center;"><span style="font-family: arial, helvetica, sans-serif;">Avocado Salad Smoked Duck Breast</span></li> <li style="text-align: center;"><span style="font-family: arial, helvetica, sans-serif;">Filet mignon with mustard sauce</span></li> <li style="text-align: center;"><span style="font-family: arial, helvetica, sans-serif;">Zucchini cake</span></li> <li style="text-align: center;"><span style="font-family: arial, helvetica, sans-serif;">Pear Almond Tart</span></li> <li style="text-align: center;">&nbsp;</li> <li style="text-align: center;"><span style="font-family: arial, helvetica, sans-serif;">Carpaccio of fresh Tuna</span></li> <li style="text-align: center;"><span style="font-family: arial, helvetica, sans-serif;">Spaghetti alle Vongole</span></li> <li style="text-align: center;"><span style="font-family: arial, helvetica, sans-serif;">Panna Cotta with red fruit coulis</span></li> <li style="text-align: center;">&nbsp;</li> <li style="text-align: center;"><span style="font-family: arial, helvetica, sans-serif;">Mouthfuls of Thai steam fish</span></li> <li style="text-align: center;"><span style="font-family: arial, helvetica, sans-serif;">Red Mullet salsa verde and crispy vegetables</span></li> <li style="text-align: center;"><span style="font-family: arial, helvetica, sans-serif;">Chocolate fondant</span></li> <li style="text-align: center;">&nbsp;</li> <li style="text-align: center;"><span style="font-family: arial, helvetica, sans-serif;">Grilled peppers with anchovies and tomatoes</span></li> <li style="text-align: center;"><span style="font-family: arial, helvetica, sans-serif;">Smoked salmon with asparagus peas in risotto</span></li> <li style="text-align: center;"><span style="font-family: arial, helvetica, sans-serif;">Floating island choco Freitz</span></li> <li style="text-align: center;">&nbsp;</li> <li style="text-align: center;"><span style="font-family: arial, helvetica, sans-serif;">Goat cheese Maki</span></li> <li style="text-align: center;"><span style="font-family: arial, helvetica, sans-serif;">Parmentier of duck confit</span></li> <li style="text-align: center;"><span style="font-family: arial, helvetica, sans-serif;">Chocolat mousse</span></li> <li style="text-align: center;">&nbsp;</li> <li style="text-align: center;"><span style="font-family: arial, helvetica, sans-serif;">Green papaya salad</span></li> <li style="text-align: center;"><span style="font-family: arial, helvetica, sans-serif;">Breaded snapper fillets with ratatouille</span></li> <li style="text-align: center;"><span style="font-family: arial, helvetica, sans-serif;">Tart with mango</span></li> <li style="text-align: center;">&nbsp;</li> <li style="text-align: center;"><span style="font-family: arial, helvetica, sans-serif;">Tomatoes with pesto of capres</span></li> <li style="text-align: center;"><span style="font-family: arial, helvetica, sans-serif;">Greek mushrooms with taboule</span></li> <li style="text-align: center;"><span style="font-family: arial, helvetica, sans-serif;">Strawberry soup</span></li> <li style="text-align: center;">&nbsp;</li> <li style="text-align: center;"><span style="font-family: arial, helvetica, sans-serif;">Trifle with avocado</span></li> <li style="text-align: center;"><span style="font-family: arial, helvetica, sans-serif;">Swordfish creole sauce with crispy vegetables</span></li> <li style="text-align: center;"><span style="font-family: arial, helvetica, sans-serif;">Banana flamb&eacute;</span></li> <li style="text-align: center;">&nbsp;</li> </ul>
a:5:{i:1;a:1:{s:3:"url";s:76:"https://www.centralyachtagent.com/yachtadmin/yachtlg/yacht5434/5434menu1.jpg";}i:2;a:1:{s:3:"url";s:76:"https://www.centralyachtagent.com/yachtadmin/yachtlg/yacht5434/5434menu2.jpg";}i:3;a:1:{s:3:"url";s:76:"https://www.centralyachtagent.com/yachtadmin/yachtlg/yacht5434/5434menu3.jpg";}i:4;a:1:{s:3:"url";s:76:"https://www.centralyachtagent.com/yachtadmin/yachtlg/yacht5434/5434menu4.jpg";}i:5;a:1:{s:3:"url";s:76:"https://www.centralyachtagent.com/yachtadmin/yachtlg/yacht5434/5434menu5.jpg";}}
https://www.cyabrochure.com/ebn/2294/pphcX/5434/1
https://www.cyabrochure.com/ebn/2294/pphcX/5434/3
https://www.centralyachtagent.com/yachtadmin/yachtimg/yacht5434/5434brochure99.jpg
a:24:{s:4:"tube";s:2:"No";s:6:"guests";s:2:"10";s:8:"maxspeed";s:2:"18";s:11:"pref_pickup";s:0:"";s:12:"other_pickup";s:0:"";s:5:"draft";s:3:"4.5";s:14:"cruising_speed";s:2:"10";s:7:"helipad";s:2:"No";s:2:"ac";s:4:"Full";s:8:"ac_night";s:3:"Yes";s:5:"built";s:4:"2017";s:10:"turnaround";s:8:"48 hours";s:6:"cabins";s:1:"5";s:4:"king";s:1:"0";s:5:"queen";s:1:"3";s:6:"double";s:1:"0";s:6:"single";s:1:"0";s:4:"twin";s:1:"2";s:7:"pullman";s:1:"0";s:7:"showers";s:1:"5";s:6:"basins";s:1:"0";s:5:"heads";s:1:"0";s:14:"electric_heads";s:1:"5";s:7:"jacuzzi";s:3:"Yes";}
a:7:{s:4:"flag";s:6:"French";s:8:"homeport";s:18:"WEST MED - CROATIA";s:13:"resort_course";s:0:"";s:12:"yacht_permit";s:1:"2";s:13:"yacht_license";s:1:"2";s:9:"yacht_mca";s:1:"0";s:15:"yacht_insurance";s:20:"ONLY YACHTS - MONACO";}


USB plusg In the salon and in all cabins are making mobiles, iPhone, iPod, iPad recharge possible. Also possible for any other audio equipment through Bluetooth and/or WiFi;

Speakers connected to lounge HI-FI set (Saloon, cockpit & flybridge)

Swimming ladders
Deck shower
Garage for nautic toys
Fly bridge with large sunpads and cushions
Cockpit lights

BBQ - Expresso
In the saloon, Radio MP3, LCD TV & DVD equipped with ANDROID & AIRPLAY systems working with Bluetooth.
a:22:{s:11:"dinghy_size";s:10:"semi rigid";s:12:"kayaks_1_pax";s:2:"No";s:12:"kayaks_2_pax";s:1:"1";s:9:"dinghy_hp";s:3:"50 ";s:13:"floating_mats";s:1:"0";s:10:"dinghy_pax";s:0:"";s:13:"swim_platform";s:3:"Yes";s:16:"water_skis_adult";s:3:"Yes";s:15:"boarding_ladder";s:3:"Yes";s:15:"water_skis_kids";s:1:"0";s:14:"sailing_dinghy";s:0:"";s:8:"jet_skis";s:3:"Yes";s:11:"beach_games";s:3:"Yes";s:12:"wave_runners";s:1:"0";s:9:"kneeboard";s:2:"No";s:10:"windsurfer";s:2:"No";s:12:"snorkel_gear";s:3:"Yes";s:17:"underwater_camera";s:2:"No";s:7:"scurfer";s:1:"0";s:16:"underwater_video";s:2:"No";s:10:"wake_board";s:3:"Yes";s:11:"paddleboard";s:3:"Yes";}
0
3
0
0
2
0
Yes
Yes
no need adapators
WEST MED - CROATIA
80
10
18
WINTER 2020-2021: UNAVAILABLE SUMMER 2021: Available from March in WEST MED (SOF, Corsica-Sardinia). Italy - Sicily on request
No
20.00 m
80
Litres/Hr
2800nm
SUMMER WEEKLY RATES 2020 and 2021: March - April -May -June-September - October / 2-5 guests: 38 000 EUROS / 6-10 guests: 40 000 EUROS July-August / 2-5 guests: 43 000 EUROS / 6-10 guests: 45 000 EUROS MYBA Terms: + 30% APA + VAT to cover all expenses One week minimum required - Depending of the calendar and at low season 5 days could be considered. WINTER WEEKLY RATES 2020-2021: UNAVAILABLE November to April: 2-6 guests: USD 38 000 / 7-10 guests: USD 40 000 MYBA Terms: + 30% APA to cover all expenses For Virgin Islands: $ 2 500 of delivery fees round trip to cover the fuel For Antigua: $ 3 500 of delivery fees round trip to cover the fuel One week minimum required - Depending of the calendar and at low season 5 days could be considered. CHRISTMAS WEEK: December 22-29 (drop off at 10:00 AM) / 2-10 guests: USD 45 000 + 30% APA NEW YEAR WEEK : December 30 - January 6 (Boarding at 2:00 PM) / 2-10 guests: USD 50 000 + 30% APA ANY OTHER DATES OVER HOLIDAY: 10 days minimum charged at the New Year rate.:71 429 USD + 30% of APA – MYBA terms + Delivery fee if any other port from Saint Martin
Plus Expenses
https://www.cyabrochure.com/ebn/2294/pphcX/5434/4
a:3:{s:16:"green_initiative";s:0:"";s:16:"reusable_bottles";s:0:"";s:19:"other_green_efforts";s:0:"";}

4 G internet communication
WI-FI access
Satellite TV";s:11:"full_course";s:0:"";s:14:"air_compressor";s:11:"Not Onboard";s:3:"bcs";s:1:"0";s:11:"weight_sets";s:1:"0";s:16:"number_of_divers";s:1:"0";s:20:"registrations_number";s:1:"0";s:11:"dive_lights";s:1:"0";s:10:"dive_costs";s:0:"";s:14:"scuba_on_board";s:35:"Yacht offers Rendezvous Diving only";}
a:15:{s:5:"tanks";s:1:"0";s:9:"wet_suits";s:1:"0";s:15:"number_of_dives";s:0:"";s:11:"night_dives";s:1:"0";s:9:"dive_info";s:22:"RENDE VOUS DIVING ONLY";s:13:"communication";s:130:"Internet Satellite (not included in standard charter cost)
a:4:{s:12:"fishing_gear";s:3:"Yes";s:17:"fishing_gear_type";s:3:"Yes";s:4:"rods";s:0:"";s:16:"deep_sea_fishing";s:3:"Yes";}
French
French
French
1
1
Yacht offers Rendezvous Diving only

MAYRILOU Charter Price Details

| | | | | | | | | | | | |
| --- | --- | --- | --- | --- | --- | --- | --- | --- | --- | --- | --- |
| Season Name | 2 guests | 3 guests | 4 guests | 5 guests | 6 guests | 7 guests | 8 guests | 9 guests | 10 guests | 11 guests | 12 guests |
| Winter 2019 to 2020 | €38,000 | €38,000 | €38,000 | €38,000 | €38,000 | €40,000 | €40,000 | €40,000 | €40,000 | €0 | €0 |
| Summer 2020 | €43,000 | €43,000 | €43,000 | €43,000 | €45,000 | €45,000 | €45,000 | €45,000 | €45,000 | €0 | €0 |
| Summer 2021 | €43,000 | €43,000 | €43,000 | €43,000 | €45,000 | €45,000 | €45,000 | €45,000 | €45,000 | €0 | €0 |